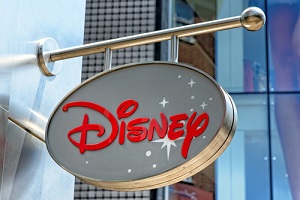 The Disney stock price slipped 15.1% in August, fueled by disappointing Q2 earnings and guidance. But the decline was exaggerated and has actually presented a buying opportunity.
On Aug. 4, the Walt Disney Co. (NYSE: DIS) posted earnings per share of $1.45 on revenue of $13.1 billion. Consensus estimates were for EPS of $1.42 on $13.23 billion.
But it wasn't the slight revenue miss that started the downward monthly spiral in Disney stock.
Sparking Disney stock's decline was the company's comment that is has reined in expectations for television subscribers as consumers shift away from conventional cable packages.
But according to Money Morning Defense & Tech Specialist Michael A. Robinson, the Disney stock price drop was not warranted.
"We've seen a lot of overreaction this earnings season, as they beat on earnings and just slightly missed on sales," Robinson said on CNBC after earnings. "The end of the year is going to be very strong for them with the new Star Wars franchise coming out. They've made a lot of moves in digital technology. This is a company that I think has a lot of upside."
Disney's stock price starting moving higher at the end of August as hype intensified over the company's highly anticipated movie "Star Wars: The Force Awakens." The film hits theaters Dec. 18.
On Sept. 4, Disney held a widely successful Star Wars' fan day dubbed "Force Friday." Many stores opened at midnight so fans could purchase a plethora of new toys and collectors' items. Analysts expect Star Wars branded merchandise to generate roughly $5 billion in sales in 2016. The movie itself is projected at add another $2 billon in global box office receipts.
Thursday at the Bank of America/Merrill Lynch Media Communication & Entertainment Conference, Disney's COO Tom Staggs talked about the company's high expectations for the Star Wars debut.
He also reiterated the company's belief in its ESPN unit. He added that the company has no near-term plans to switch to new digital platforms.
Staggs also said the sharp downturn in Disney stock, which tumbled to $108 from more than $121, was overblown.
"I think, yes, the market overreacted," Staggs said. "We feel good about where we sit. ESPN continues to be one of the most important and valuable brands in programming."
Disney's COO also said the company has bought back $2.4 billion of its stock in the last month. Staggs said the decline in Disney's stock price has been advantageous in the buyback.
The media conglomerate announced in its last earnings call that it planned to buy back $6 billon to $8 billion of its stock during the current fiscal year. Disney has already repurchased $5.6 billion worth of shares.
On June 24, Disney hiked its dividend 15% to $1.32 on an annualized basis. It also announced it will start paying distributions twice a year instead of annually, as it continues to benefit from "Frozen" and an anticipated strong showing from the new 'Star Wars' release.
At $104.17, Disney's stock price is up 10.4% this year.
Stay informed on what's going on in the markets by following us on Twitter @moneymorning.
Protect Yourself from a Total Market Collapse: According to CIA Asymmetric Threat Advisor Jim Rickards, there are five "flashpoints" that signal the death of the U.S. dollar and a complete economic collapse in the United States. Here's how you can protect yourself, and your money, before it's too late...
Related Articles: