After 30-plus years in Silicon Valley, I've developed a thick skin.
I need it to keep myself immune from the daily barrage of useless hype that comes out of the Valley's publicity mills every day.
That said, I still get giddy every time the fall Apple Inc. (Nasdaq: AAPL) product announcements come around. After all, Apple is the leader in consumer electronics and operating systems – the biggest and most important tech company in the world.
And this year certainly didn't disappoint.
However, while everyone is distracted by the iDevice King's impressive new lineup of hardware – or sharing jokes about the Apple Pencil around the watercooler – it's what the company has brewing behind the scenes that investors like you should be paying attention to.
It's going to change the way consumers use Apple products forever.
Let's take a look…
The Latest and Greatest from Apple (Nasdaq: AAPL)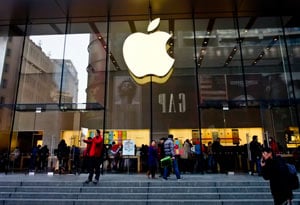 Apple CEO Tim Cook wasn't exaggerating when he took the stage Wednesday and told a standing-room-only crowd that "monstrous changes" were coming for Apple.
During the 2.5-hour event, Cook and his team revealed major upgrades and innovations across nearly every product line. For the most part, the pre-event rumors about upgraded phones, tablets, and set-top box (Apple TV) were spot on. But Cook did manage to slip a few surprises in there.
After months of speculation, the company finally unveiled its latest iPad – the iPad Pro. For nearly two years, Apple earnings have had one consistent negative: the iPad. Year-over-year sales of the tablet have declined for six straight quarters.
But with the iPad Pro, I think that will change.
The Pro's 12.9-inch display (a good deal heftier than its 9.7-inch predecessor, the iPad Air 2) is packed with 5.6 million-plus pixels. That's more than some MacBooks.
Resolution and image quality was key across all of the products announced at the event, but what Apple was able to jam into this 1.57-pound device is truly impressive. The company bragged that the Pro's graphics performance is 360 times better than 2010's original iPad.
And that's not the only impressive improvement.
Join the conversation. Click here to jump to comments…
About the Author
Michael A. Robinson is a 35-year Silicon Valley veteran and one of the top technology financial analysts working today. He regularly delivers winning trade recommendations to the Members of his monthly tech investing newsletter, Nova-X Report, and small-cap tech service, Radical Technology Profits. In the past two years alone, his subscribers have seen over 100 double- and triple-digit gains from his recommendations.
As a consultant, senior adviser, and board member for Silicon Valley venture capital firms, Michael enjoys privileged access to pioneering CEOs and high-profile industry insiders. In fact, he was one of five people involved in early meetings for the $160 billion "cloud" computing phenomenon. And he was there as Lee Iacocca and Roger Smith, the CEOs of Chrysler and GM, led the robotics revolution that saved the U.S. automotive industry.
In addition to being a regular guest and panelist on CNBC and Fox Business Network, Michael is also a Pulitzer Prize-nominated writer and reporter. His first book, "Overdrawn: The Bailout of American Savings" warned people about the coming financial collapse - years before "bailout" became a household word.
You can follow Michael's tech insight and product updates for free with his Strategic Tech Investor newsletter.