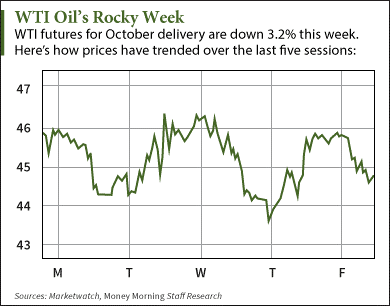 WTI crude oil prices slumped today (Friday) and could see a weekly decline of more than 3% after a new Goldman Sachs Group Inc. (NYSE: GS) price forecast.
At 10 a.m., WTI crude oil prices were down 2.9% and trading at $44.61 a barrel. The U.S. benchmark is coming off a rough summer, plunging 19.3% from June to August. It's down 9.3% in September so far.
Brent crude oil prices are also down this morning. The international benchmark fell 2.5% to $49.46 a barrel today. It has tumbled 11.4% this month.
The drawback in WTI crude oil prices today came after a new forecast from Goldman Sachs. The Wall Street titan trimmed its 2016 estimate for the WTI oil price to $45 a barrel from $57. It cited OPEC production growth and slowing demand as the reasons for a continuing low-price environment.
"The oil market is even more oversupplied than we had expected and now we forecast this surplus to persist in 2016," Goldman wrote in its price report.
Today's oil prices were also pressured by discord within OPEC. Saudi Arabia - the largest producer and de facto leader of the cartel - stated it doesn't support holding an emergency meeting aimed at stopping the price slide. According to a Reuters report, officials said an OPEC meeting wouldn't result in any increase in oil prices.
Saudi Arabia's statement defies the cartel's bulletin last week, which stated OPEC is "ready to talk to all other producers" about the price rout. Member countries like Venezuela and Libya depend on high oil prices since export revenue is what keeps their economies afloat.
But despite all of these forces weighing down crude oil prices today, there are still ways to profit in the energy sector.
All you need to do is follow these three strategies for finding the best oil stocks to invest in...
Alex McGuire is an associate editor for Money Morning who writes about commodities. Follow him on Twitter at @AlexMcGuire92 for the biggest updates on commodity prices.
Editor's Note: According to CIA Asymmetric Threat Advisor Jim Rickards, there are five "flashpoints" that signal the death of the U.S. dollar and a complete economic collapse in the United States. Here's how you can protect yourself, and your money, before it's too late...
Related Articles: