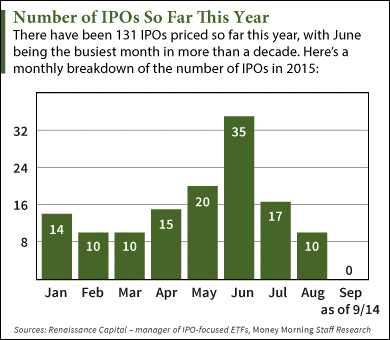 After three weeks without a new issue, the IPO market is active again. There are three companies on this week's upcoming IPO calendar. They're expected to raise a combined $297 million.
The IPO market has been abnormally slow in 2015. There have only been 131 deals so far this year, down 37% from the same period in 2014. Most new issues have been healthcare firms. The number of tech IPOs has fallen to a seven-year low.
Stocks coming off new IPOs have faltered in the last two months. According to Renaissance Capital, a manager of IPO-focused ETFs, 47% of 2015 IPOs were trading below their offer price as of Aug. 21. If we're going to see a high volume of IPOs in Q4, new issues will need to start outperforming the broader market.
All three deals on this week's upcoming IPO calendar are biotech companies. One of them could become the largest medical products company to go public this year.
Here's everything you need to know about the offerings on this week's upcoming IPO calendar…
Three Healthcare Companies on the Upcoming IPO Calendar
Penumbra Inc. (NYSE: PEN) is a medical company that markets surgical access devices for neuro and peripheral vascular diseases. Founded in 2004, the California-based biotech has over 1,000 employees with offices in North America, Europe, Australia, and Asia. Penumbra's sales during the first half of 2015 increased 41% from the year-ago period. Its proposed market cap of $847 million would make it the largest medical products company to hit the market in 2015. Penumbra is set to raise $101 million by selling 3.8 million shares at a $25 to $28 price range. PEN stock will make its debut on Friday, Sept. 18.
Money Morning Members: Continue reading for the rest of this week's upcoming IPO calendar. For those new to Money Morning, sign up to keep reading – it's completely free…