The price of gold today was flat in early U.S. trading today (Tuesday) as investors remain guarded ahead this week's Federal Open Market Committee (FOMC) meeting.
In Tuesday's morning session, the price of gold was trading lower by $3.60, or 0.32%, at $1,105.80 an ounce. Monday, gold prices added $4.40, or 0.40%, to $1,107.80.
The gold price is expected to trade in a narrow range ahead of the U.S. Federal Reserve's two-day meeting on Wednesday and Thursday. Policy makers will discuss monetary measures and may announce the first interest rate increase since June 2006.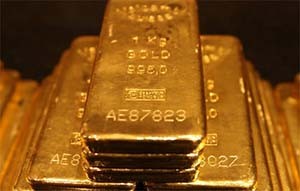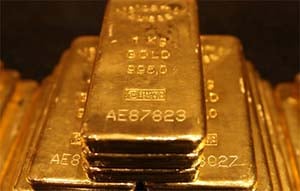 Gold prices are hovering near a one-month low, pressured in part by heavy selling in gold-backed ETFs. According to ANZ Research, some $2.6 billion has left gold ETFs over the last three weeks as market participants wait to hear what U.S. central bank members have to say on Thursday.
The fact that there is no general consensus on whether the Fed will raise rates has concerned some investors. The Fed has kept rates near zero since the financial crisis of 2008. But still, no one is positive whether the hike will happen now or later in 2015.
Gold has benefited from ultra-loose monetary measures and historically low interest rates. So, any change in the Fed's policy will certainly affect gold prices.
How gold prices react after the Fed's decision Thursday will most likely depend on tone. A more dovish stance, pointing to a postponed interest rate rise if it doesn't hike, could trigger a rally in the shiny yellow metal.
Looking ahead, gold prices should find a floor amid economic woes in China. Worries over a serious slowdown in the world's second-largest economy are expected to provide a cushion, and possibly a catalyst, for the gold price in the months ahead.
"Given continuing concerns over China, the fallout in emerging markets, and a likelihood that the Fed will stay on hold as it does not wish to rock the boat, we feel gold will remain well supported," said William Adams, head of research at Fastmarkets, told The Wall Street Journal.
Additionally, ever-present geopolitical, macroeconomic, and monetary risk will continue to draw savvy investors to gold.
Stay informed on what's going on in the markets by following us on Twitter @moneymorning.
Protect Yourself from a Total Market Collapse: According to CIA Asymmetric Threat Advisor Jim Rickards, there are five "flashpoints" that signal the death of the U.S. dollar and a complete economic collapse in the United States. Here's how you can protect yourself, and your money, before it's too late...
Related Articles: