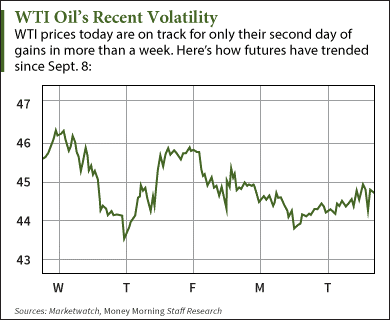 WTI crude oil prices today (Tuesday) moved higher as traders await the outcome of this week's FOMC meeting.
At 3:20 p.m., WTI crude oil prices were up 1.4% to $44.61 a barrel, erasing yesterday's loss of 0.5%. The U.S. benchmark has been volatile recently, shedding 2.4% since last Tuesday. It has tumbled 9.3% in September so far.
Brent crude oil prices saw smaller gains this afternoon. The international benchmark rose 0.91% to $48.69 a barrel. However, futures have cratered 12.7% this month.
Today's jump in WTI crude oil prices comes before the start of the U.S. Federal Reserve's two-day assembly tomorrow (Wednesday). Investors are waiting to see if the central bank will deliver its first interest rate hike in nearly 10 years.
Rising interest rates could increase the value of the dollar. That would be bad news for oil and other commodities priced in the greenback.
Even if the rate adjustment happens, the market shouldn't react too extremely. According to Money Morning Capital Wave Strategist Shah Gilani, any hike in interest rates will likely be small.
"A rate increase of 0.25% in the Fed funds rate has already been talked about for so long that it's mostly baked into prices now," he said.
If the market slightly drops after the rate increase, it's not a reason to panic. The Fed raising rates by just a small increment won't cause a major sell-off, even if it triggers a little more volatility than the market has seen this week.
Alex McGuire is an associate editor for Money Morning who writes about commodities. Follow him on Twitter at @AlexMcGuire92 for the biggest commodity price updates.
How OPEC's Attempt to Save Face Affects the Oil Market: OPEC recently indicated it is now willing to discuss production levels with members outside the cartel. This is the first sign that the price crash has created serious problems for the cartel. Here's how OPEC's failing production strategy affects the oil market…