GW Pharmaceuticals Plc. (Nasdaq ADR: GWPH) stock surged 12% to $120.94 intraday today (Tuesday) on encouraging results from one of its exploratory cannabinoid products.
GWPH stock is now up 68.8% in 2015.
The London-based biopharmaceutical company announced positive results in a phase 2 trial of Cannabidiol (CBD) today. The trial involved patients with schizophrenia who had previously not responded effectively to first line antipsychotic medications.
Key findings in the trail study found that CBD was consistently superior to a placebo and produced fewer negative symptoms than the leading antipsychotic medications.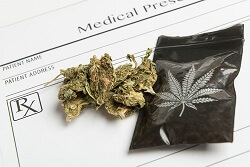 "These findings further reinforce the potential role of cannabinoids in the field of neuropsychiatric disease," GW's Chief Executive Officer Justin Gover said in a statement. "We believe that the signals of efficacy demonstrated in this trial, together with a notably reassuring safety profile, provide GW with the prospect of new and distinct cannabinoid neuropsychiatric product pipeline opportunity."
GW Pharmaceuticals is also testing a product called Epidiolex, aimed at treating childhood epilepsy. GWPH plans to report initial top-line data of phase 3 clinical trials of Epidiolex by the end of 2015.
GWPH's latest data, presented at the American Academy of Neurology in early April, reinforced the company's confidence in Epidiolex becoming an important advancement in the field of treatment-resistant epilepsy.
Alternative treatments are currently available for epilepsy, but their side effects have been described as "awful." The exception is GWPH's in-trial therapy.
The company plans to submit a new drug application (NDA) to the U.S. Food and Drug Administration in 2016. It continues to work on all the details needed for a successful commercial launch of Epidiolex.
Excitement regarding Epidiolex's potential helped GWPH successfully raise $179.2 million in a secondary stock offering on May 2.
It should also continue to push the GWPH stock price higher from here…