U.S. Federal Reserve officials will meet today (Wednesday) and tomorrow to discuss whether or not to raise interest rates. The meeting could mark the first Fed rate hike in almost 10 years.
One type of stock affected by interest rates is real estate investment trusts (REITs). These are companies that own or finance income-producing real estate assets. They're often associated with shopping malls, offices, hotels, and apartment buildings.
REITs are high-yield investments that pass 90% of their profits to shareholders.
Many investors believe real estate investment trusts suffer if the Fed hikes interest rates. They assume REITs underperform when the cost of money increases due to its critical role in real estate investing.
But that's not always the case…
These Real Estate Investment Trusts Perform Well During Rate Hikes
According to Money Morning Chief Investment Strategist Keith Fitz-Gerald, a Fed interest rate hike will not kill all REIT returns.
"Contrary to what a lot of people believe, REITs have historically done well when the cost of money is increasing," said Fitz-Gerald earlier this year. "REITs are not the investing zombies many investors think when it comes to rising rates."
Fitz-Gerald looked at how REITs performed during periods of rising interest rates, as measured by the 10-year U.S. Treasury note. REITs have historically seen gains when the 10-year Treasury bond yield has risen.
This chart shows how much real estate investment trusts have returned when the yield has risen more than 1%…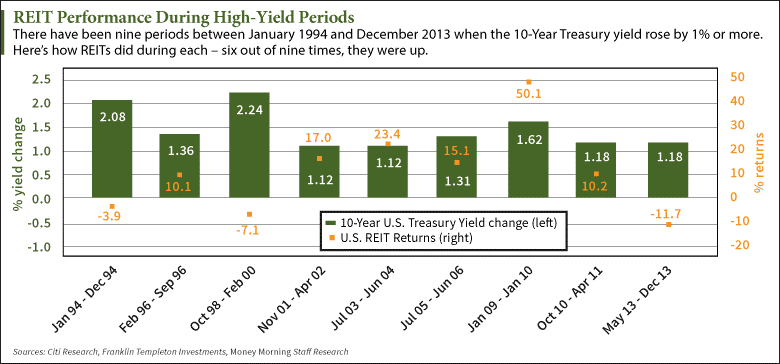 From 1994 to 2013, there were nine separate periods when the U.S. Treasury yield was higher than 1%. During six of those nine periods, REITs provided positive returns.
Not all REITs perform the same way, though. Some do get hurt when interest rates are high…