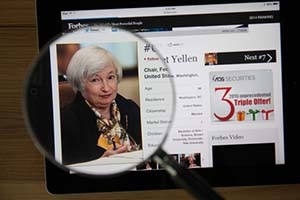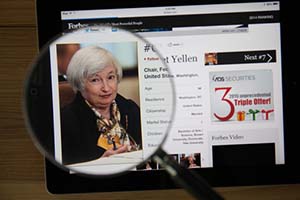 The U.S. Federal Reserve announced today that it will not be raising interest rates following this month's meeting.
Markets were choppy following the Fed interest rate decision. The Dow Jones Industrial Average was up 56 points following the news, but quickly swung 100 points in the other direction. By 2:30 p.m. when Janet Yellen began her press conference, the Dow was back up five points.
Now, here are the five biggest things investors need to know following today's Fed interest rate decision...
Today's Fed Interest Rate Announcement: Why the Fed Didn't Raise Rates
Fed officials ruled 9-1 not to raise interest rates today. One of the biggest reasons the Fed decided not to raise rates was extreme volatility in global markets.
According to officials, the global volatility could put downward pressure on inflation, which was one of the key reasons for holding off on a rate hike.
Chairwoman Janet Yellen showed concern that the turbulence in global markets could affect the U.S. economy. She said Fed officials would need "a little bit more time" to see if the U.S. economy has been impacted significantly.
Today's Fed Interest Rate Announcement: When the Fed Will Hike Rates
The Federal Reserve will meet again on Oct. 27 and Oct. 28, so we'll be revisiting the Fed interest rate decision in a little over a month.
While the interest rate decision was overwhelmingly against a rate hike this month, 13 of the 17 Fed officials said they expect a raise by the end of 2015. After the October meeting, the Fed will once again meet in December.
So we could still see an interest rate hike this year after one of those two meetings. They also said they expect interest rates to reach 2.625% by the end of 2017.
Continue reading for three more must-know details from today's Fed interest rate decision...