Almost exactly an hour and a half into the CNN debate last night, Carly Fiorina and Donald Trump got into a scrap about their entrepreneurial track records.
A moderator pitted the GOP candidates against each other when he asked who, between the two of them, would be better at job creation?
Carly Fiorina calls out Donald Trump's bankruptciesCarly Fiorina calls out Donald J. Trump on his financial records: "You were forced to file for bankruptcy… a record 4 times," she said on the #CNNDebate. "Why should we trust you to manage the finances of this nation?" cnn.it/livestream

Posted by CNN on Wednesday, September 16, 2015
"I led Hewlett Packard through the worst technology recession in years," former Hewlett-Packard Co. (NYSE:
HPQ
) chief
Carly Fiorina
said. "We had very strong competitors who went out of business. We had to make tough choices. We went from lagging behind to leading, and we must lead in this nation again... I made a few enemies."
"Hewlett Packard is a disaster - they continue to be a disaster," Trump pointed out. "She can't run any of my companies, I'll tell you that."
Fiorina retorted, "I find it quite rich that you would talk about this. You ran up mountains of debt at your casinos, and you were forced to file for bankruptcy a record four times. Why should we trust you to manage the finances of this nation any differently than the way you've handled your casinos?"
There's something to be said for the way Carly Fiorina stood her ground all night against Donald Trump - arguably, she's the only GOP candidate to have successfully done so in the 2016 presidential race to date.
But Fiorina's dig about Trump's "mountains of debt in A.C." isn't really as damning as she'd like it to be...
Take a look at the truth about Trump's bankruptcy - it's likely to come up again as he and Fiorina continue to campaign...
Carly Fiorina vs. Trump: The Truth on His "Mountain of Debt"
Bankruptcy is a tool used frequently in U.S. business. It encourages risk-taking, helps the economy adapt to changing trends, and protects shareholders.
Here's how it works...
Put simply, bankruptcy allows debtors relief from their debt when they cannot pay it back. Through bankruptcy, a debtor can get a "financial fresh start."
However, there are six different types of bankruptcy under the Bankruptcy Code (the federal laws of U.S. bankruptcy): Chapters 7, 9, 11, 12, 13, and 15. These chapters mainly differ in terms of who the debtor is. For example, farmers and fisherman can file for debt relief under Chapter 12 bankruptcy. Municipalities can file for Chapter 9 bankruptcy.
When it comes to the issue of Donald Trump's bankruptcies, we are only concerned with Chapters 7 and 11.
That's because a Chapter 7 filing is indicative of poor financial management skills on behalf of the debtor - a red flag for voters evaluating a presidential candidate. But a Chapter 11 filing doesn't necessarily indicate poor management. In fact, it can be seen as a tool that improves a company's value for investors.
Here's the difference:
Chapter 7 bankruptcy: Allows an individual to be freed of most debt in exchange for a ruined lined of credit for 10 years.
Chapter 11 bankruptcy: Allows a corporation to stay in business while it restructures its business and attempts to reduce its debt.
On June 19, Trump tweeted, "I never went bankrupt." He was being truthful. The real estate magnate has kept good order of his personal finances.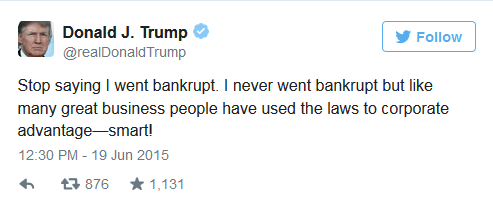 You see, all four of Donald Trump's bankruptcies were the Chapter 11 type. Each resulted from over-leveraged casino and hotel properties in Atlantic City. [Editor's Note: For a breakdown of each of Trump's bankruptcies, go here...]
"I've cut debt - by the way, this isn't me personally, it's a company," Trump clarified to Forbes in April 2011. "Basically I've used the laws of the country to my advantage and to other people's advantage just as Leon Black has, Carl Icahn, Henry Kravis has, just as many, many others on top of the business world have."
Trump emphasized that many "great entrepreneurs" have used bankruptcy to restructure debt, free up capital, and improve their businesses.
And he's right.
Reed Smith partner Michael Venditto, who has represented clients in high-profile Chapter 11 cases (including bankrupt airline TWA), added in the same article that "to the ordinary person in the street, [four corporate bankruptcies] may seem surprising, but certainly not to me. Chapter 11 is how you reshape and restructure a company that has problems. It doesn't indicate anything nefarious or even bad management."
Tara Clarke is an Associate Editor at Money Morning. You can follow her on Twitter @TaraKateClarke.
Carly Fiorina's Net Worth: The former HP CEO has been very transparent about her finances in the 2016 presidential race. Her net worth is monumental -- yet she says she can understand the average American much better than Dem rival Hillary Clinton. Here's why...
Related Articles: