While most global stock markets tumbled this week after the U.S. Federal Reserve decided not to raise short-term interest rates, the top penny stocks this week posted double-digit gains.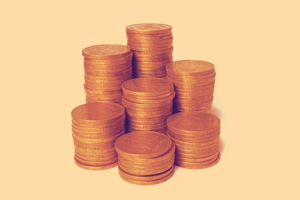 They also come from a wide range of industries, including biotechnology, manufacturing, and the medical device market.
Penny stocks are defined as stocks trading under $5, but at Money Morning we only focus on penny stocks listed on major exchanges like the NYSE and Nasdaq. That's because they come with much less risk than penny stocks that trade Over-the-Counter or on the Pink Sheets.
But there are still plenty of benefits to these top penny stocks, including low prices and the potential for big gains over a short period of time.
Here's a look at this week's five top penny stocks to watch...
Top Penny Stocks to Watch No. 1: Can-Fite Biopharma Ltd. (NYSEMKT ADR: CANF)
Can-Fite Biopharma Ltd. (NYSEMKT ADR: CANF) climbed 97% on Friday alone. Opening at $4.47, shares surged to $6.50 in early afternoon trading. CANF develops new treatments for autoimmune diseases and different types of cancer. Its products include treatments for psoriasis, rheumatoid arthritis, glaucoma, and liver disease. Late Thursday, the FDA granted CANF's drug candidate CF102 fast track designation as a second-line treatment for hepatocellular carcinoma (HCC), the most common form of liver cancer. CF102 had already received the FDA's Orphan Drug designation, which makes it a top penny stock to watch moving forward.
Penny Stock to Watch No. 2: Natuzzi SpA (NYSE ADR: NTZ)
Natuzzi SpA (NYSE ADR: NTZ) shares surged 32.94% to $2.26 Friday. The movement may be in anticipation of the company's upcoming financial release. On Sept. 25, NTZ will post Q2 and 2015 first-half results. When the company reported Q1 results in May, it showed a significant improvement in revenue and margin, confirming the positive trend of the previous quarters. Net sales in Q1 came in at 122.6 million euro (roughly $140 million), up 24.6% year over year. Worldwide, NTZ registered revenue growth in all its main markets. Directly owned stores posted a 26.9% growth in Q1 as well. Shares are up 32.97% year to date.
Keep reading for three more top penny stocks to watch this week...