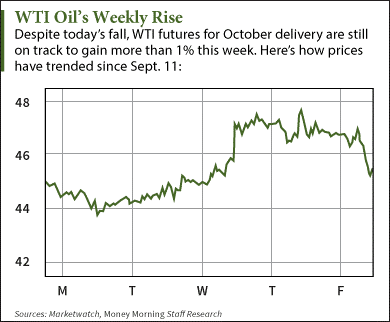 WTI crude oil prices fell into the red today (Friday) as investors remain uncertain about the timing of an interest rate hike following the Fed's announcement yesterday.
At 9:30 a.m., WTI crude oil prices ticked down 2.84% to $45.57 a barrel. The U.S. benchmark has had a rough month so far, falling 7.4% since Aug. 31. Despite an overall decline in September, futures are on track for a weekly gain of 2.1%.
Brent crude oil prices were also down this morning. The international benchmark lost 1.4% to trade at $49.18 a barrel. Brent futures have plunged 11.9% so far this month.
The reason why WTI crude oil prices are down today is yesterday's decision by the U.S. Federal Reserve to not raise interest rates. Yesterday afternoon, Fed Chairwoman Janet Yellen announced that interest rates would remain at their near-zero level for the time being. She cited slowed economic growth overseas and low inflation rates as reasons for not raising interest rates.
While the announcement weakened the dollar and should've boosted oil prices, prices are still falling due to the macroeconomic concerns behind the decision.
"The outlook abroad appears to have become more uncertain of late, and heightened concerns about growth in China and other emerging-market economies have led to notable volatility in financial markets," Yellen said after the announcement.
When the Fed eventually raises interest rates, it will have a negligible effect on WTI crude oil prices. According to Money Morning Global Energy Strategist Dr. Kent Moors, a rate hike may temporarily lower prices, but increasing demand will lift them over the long term.
The International Energy Agency (IEA) predicts that global oil demand will average 94.2 million barrels a day in 2015. That's 1.7% more than the daily average in 2014.
"Energy demand elements are emerging that far outweigh the significance of any Fed move," Moors said. "Because while the fixation on a rise in interest rates continues, aggregate expected global oil demand is moving up regardless."
Here's the "fundamental price picture" that will fuel oil's rebound as we move into 2016…
Alex McGuire is an associate editor for Money Morning who writes about energy. Follow him on Twitter at @AlexMcGuire92 for all of the biggest oil and gas updates.