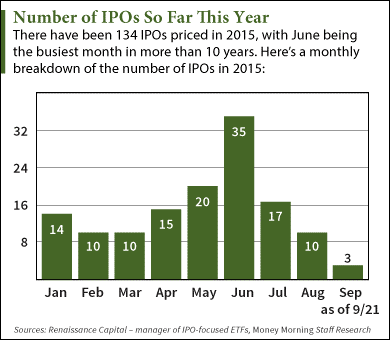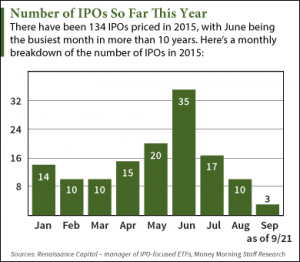 There are three upcoming IPOs this week. According to Renaissance Capital, a manager of IPO-focused ETFs, they're expected to raise a combined $380 million.
Last week, the IPO calendar ended its three-week lull as three healthcare companies hit the market. All three IPOs saw a first-day pop of 30% or more.
The IPO market has been markedly slower compared to last year. There have only been 134 deals so far in 2015, down nearly 40% from the same period in 2014. Most new issues have been healthcare firms.
This week offers more variety as a financial company, biotech, and consumer firm make their market debut.
Here's everything you need to know about the three upcoming IPOs this week…
Three Upcoming IPOs This Week
Boulevard Acquisition Corp. II is a special-purpose acquisition company (SPAC) formed by private equity firm Avenue Capital Group. It is the second SPAC to be taken public by Avenue Capital after Boulevard Acquisition Corp., which recently became AgroFresh Solutions Inc. (Nasdaq: BLVDU). Formed in 2015, Boulevard Acquisition Corp. II serves the same purpose as its predecessor and was created solely to pursue an acquisition in any industry. The company is set to raise $350 million by offering 35 million shares for $10 each. It is valued at $438 million and will hit the market sometime this week.
Money Morning Members: Keep reading for the rest of the upcoming IPOs this week. For those new to Money Morning, sign up to keep reading – it's completely free…