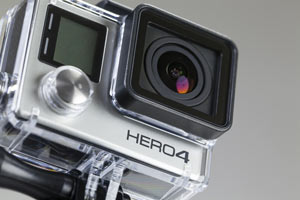 The GoPro Inc. (Nasdaq: GPRO) stock price was down another 8% in afternoon trading today (Monday) after a weekend edition of Barron's had a GoPro stock prediction of $25 per share.
GoPro stock is now down 48.1% since Aug. 1 and 52% in the last 12 months. The GoPro stock price is now down 67% from the high of $98.47 it hit last October.
Shares of GPRO were trading near $32 for most of the day Monday. If shares hit the $25 mark that Barron's report suggests, the stock will have dipped another 22% from today's price.
The report stressed how increased competition could have a major impact on GPRO stock moving forward. The report described the company as a "one-product wonder." It also compared the company to Blackberry, whose mobile phones have been all but replaced by competitors' smartphones.
This is a threat that Money Morning Chief Investment Strategist Keith Fitz-Gerald has been warning investors about since the GoPro IPO in June 2014. He had a bearish GoPro stock prediction from the beginning.
"I'd be very concerned about the stock's longevity with competition already nipping at its heels," Fitz-Gerald said at the time of the IPO. "I'm aware of half a dozen competing products that appear to be more wearable, potentially easier to use, and more consumer friendly."
"There is no compelling evidence that GoPro can provide a lasting alternative to the greatest threat to the company's relevance - smartphones. And that's the crux of the issue," he continued. "There's no reason whatsoever to believe that its competitors won't catch up... that Apple and others won't come out with products that match or exceed GoPro's capabilities or be easier to use."
Those who took Fitz-Gerald's advice avoided a huge crash from GoPro stock. GPRO stock soared out of the gate, more than 110% in the first months. Investors who bought in at those highs are now looking at losses of more than 65%.
Follow us on Twitter @KyleAndersonMM and @moneymorning.
Like us on Facebook: Money Morning.
Protect Yourself from a Total Market Collapse: According to CIA Asymmetric Threat Advisor Jim Rickards, there are five "flashpoints" that signal the death of the U.S. dollar and a complete economic collapse in the United States. Here's how you can protect yourself, and your money, before it's too late...