The Tesla stock price slipped 2.1% to $258.88 today (Tuesday) on news Apple Inc. (Nasdaq: AAPL) has begun working on its own electric car.
The Wall Street Journal reported Apple is developing the car under the name "Project Titan." Apple has already hired several seasoned automotive industry veterans to join the team and is looking to build the division's workforce to 1,800 employees.
Few details have emerged about Apple's car, and the company hasn't commented on The Journal's report. It's still unknown if Apple even plans to manufacture the car itself. That would be a significant shift for the tech titan, which normally contracts out the actual making of its devices.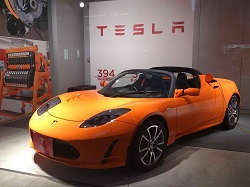 Apple already has made a step into the automotive business with Apple CarPlay, which incorporates iPhone functionality with a vehicle's infotainment system.
Ever since the first rumblings in February that Apple was working on a car, its auto and tech competitors - Tesla in particular - have been waiting for any developments. With a market cap of $650 billion, Apple can make a splash in almost any market it chooses.
But Apple's car is still years away, and Tesla Motors Inc. (Nasdaq: TSLA) is already an undisputed leader in the electric car market. That will buoy the Tesla stock price in the long term.
Now it is prepping for the launch of its Tesla Model X electric crossover SUV. The unveiling will take place at 7 p.m. on Sept. 29 at Tesla's Fremont, Calif. factory.
The fully electric Model X will be Tesla's third production vehicle. The first was the compact Roadster, followed by the Model S sedan.
The crossover will include a version of the electric all-wheel drive power train found in the "D" versions of the Model S, but with more robust suspension. The SUV's range is projected to be about 10% lower than the S's 230 to 265 mile estimate.
An enthusiastic reception could fuel a rally in the Tesla stock price. At $260, TSLA is up 16.7% year to date.
And according to Money Morning experts, there is still plenty of profit to be had on TSLA stock for long-term investors...
Stay informed on what's going on in the markets by following us on Twitter @moneymorning.
Protect Yourself from a Total Market Collapse: According to CIA Asymmetric Threat Advisor Jim Rickards, there are five "flashpoints" that signal the death of the U.S. dollar and a complete economic collapse in the United States. Here's how you can protect yourself, and your money, before it's too late...
Related Articles: