Proclaimeth Pope Francis: "Capitalism is the 'dung of the devil.'"
These were the pontiff's precise words on July 9, 2015, when he delivered an impassioned speech on the bane of capitalism in Bolivia.
A little more than two months later and Pope Francis' plane has just touched down in Washington, D.C. - the heartland of capitalism...
Pope Francis, Capitalism, and America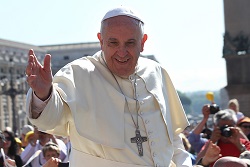 To put it bluntly, Pope Francis has long been an anticapitalist muckraker.
Back in his 2013 papal apostolic exhortation, Francis made a bold statement against capitalism: "Just as the commandment 'Thou shalt not kill' sets a clear limit in order to safeguard the value of human life, today we also have to say 'thou shalt not' to an economy of exclusion and inequality. Such an economy kills. How can it be that it is not a news item when an elderly homeless person dies of exposure, but it is news when the stock market loses two points?"
And recently, just prior to his visit to the United States, the pontiff traveled across South America where he professed the injustices of today's "structurally perverse" economic structure that "puts profit ahead of people."
Sept. 22, 2015, marked the first papal visit to the United States in seven years. During his brief trip, the pontiff will travel through the Northeast, stopping to address America's 70 million Catholics along the way. He will no doubt touch on controversial material. Stoking the flames of debate is what makes Pope Francis... Pope Francis. In the past, he's weighed in on the gay marriage debate, the "selfishness of not having children," and the benefits of corporal punishment, for example.
But there may be a surprising voice of dissent in the crowd when Francis speaks out against capitalism here in America.
That voice will come from the most unlikely of places: within the Catholic Church itself...
"No, Pope Francis, Capitalism Is a Blessing"
Father Robert A. Sirico is the president of the Acton Institute, a nonprofit research organization dedicated to the study of free-market economics informed by religious faith. He spoke candidly with CNBC just a few days ago on Sept. 19 to clarify and promote a viewpoint he shares with other members of myriad clergies - that "capitalism should not be confused with unfettered consumption."
Sirico explained that "free markets are wrongly conflated with the urge to splurge on goods, or idolizing material wealth." Capitalism, Sirico insisted, is more than that.
"You can wish the poor to have bread, but if you don't build bakeries and factories, the poor don't get it."
"The same way that [former Pope] John Paul highlighted the anthropological errors of socialism, the [current] pope is underscoring the anthropological errors of capitalism," Sirico said. "The most critical statement he made is about the idolatry of money," rather than a wholesale rejection of the free markets.
Sirico inferred that economic matters are less pertinent to the pontificate's focus on life, marriage, and morality anyway. "If you love the poor, it's not enough to have good intentions," he warned. "You can wish the poor to have bread, but if you don't build bakeries and factories, the poor don't get it."
The real conflict, Sirico said, is currently between two alternatives that allot opportunity and wealth in vastly different ways, resulting in disparate outcomes. With statism and capitalism "we have two social paradigms that we have to choose between. If we choose the first, we're going to leave a lot of people behind."
Of course, many argue those on the poorer end of the wealth-distribution scale are stuck there now more than ever, some even growing steadily poorer, while others at the opposite end of the spectrum continue to thrive and grow richer.
Regardless, Sirico remains steadfast in his conviction that "these kinds of conditions cannot be addressed by government or charity." Conversely, these very conditions, Sirico explained, are best addressed by laissez-faire capitalism and entrepreneurship, despite the scathing Pope Francis capitalism attacks. "Empirically, what we know is that the poor have risen out of poverty...that's not the result of charity." It's the result, rather, "of the market globalizing, and having access to goods and services. That's not very romantic, and we need charity. But charity is not the normative way people rise out of poverty, business is."
Find us on Twitter @moneymorning.
Here's a Surprising Turn Many 2016 Presidential Voters Didn't See Coming: Carly Fiorina now polls second in the GOP presidential race, just behind front-runner Donald Trump. There is a correlation between Fiorina's rise in popularity and the fall of "The Donald's." During last Wednesday's debate, these two politicians butted heads worse than a pair of angry rams. Here's why Fiorina came out on top...
Related Articles: