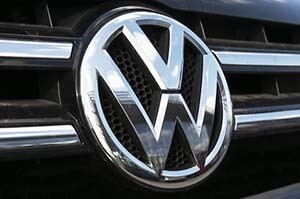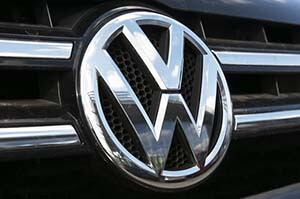 The Volkswagen AG (OTCMKTS ADR: VLKAY) stock price climbed 6% to $26.95 this morning (Wednesday) despite new questions about its diesel emissions scandal.
The biggest news of the day revolved around CEO Martin Winterkorn, who announced his resignation from the company shortly after 11:00 a.m. ET.
Despite today's gain, VLKAY stock is still down 37.4% year to date. Most of that drop occurred this week after news of the company's deceptive emissions behavior broke.
Reports Monday pegged the number of vehicles in the United States involved at 482,000. The German automaker now says the global tally is a whopping 11 million vehicles. As many as 10 million of the affected vehicles are likely in Europe, where VW is the leading auto manufacturer. Diesel cars are much more common in Europe as well.
Volkswagen has set aside 6.5 billion euros, or roughly $7.3 billion, to cover the cost of its dishonest practice. That's equivalent to about a half-year of profits.
Still, the Environmental Protection Agency (EPA) has the authority to fine Volkswagen up to $37,500 per vehicle. That means Volkswagen could be looking at a massive $18 billion fine in the United States alone. Volkswagen could also face accusations of false marketing and consumer lawsuits of its promotion of the vehicles under the "Clean Diesel" label.
Sign up for SMS so you never miss special events, exclusive offers, and weekly bonus trades.
The EPA does not yet know exactly what VW did to receive passing grades. The agency is digging to see if VW also violated U.S. pollution regulations.
Volkswagen's diesel cars, according to regulators, are spewing nitrogen oxide at up to 40 times the acceptable level. In addition to contributing to pollution, nitrogen oxide can aggravate respiratory conditions such as asthma, bronchitis, and a host of lung disorders.
Volkswagen was the world's largest vehicle manufacturer through the first six months of 2015. Part of that success was tied to the perceived fact that its clean-diesel engines produce low emissions.
Regardless, the VLKAY stock price has been on a steady decline since May. Even before this week's drop, VLKAY stock dipped 25% from May 1 through Sept. 17.
The European Commission is also conducting its own investigation. Germany announced Tuesday it is launching a preliminary criminal investigation into VW's conduct. Other nations looking into the matter include France, Italy, and South Korea.
The scandal also puts the future of diesel-powered vehicles and their longstanding clean-air and fuel economy reputation at risk as rivals rush to show their diesel engines meet standards.
While VLKAY stock is up 6% today, there is likely more pain ahead for VW shares. Especially if the $7.3 billion already set aside from the company doesn't cover the majority of incoming fines.
Stay informed on what's going on in the markets by following us on Twitter @moneymorning.
Related Articles: