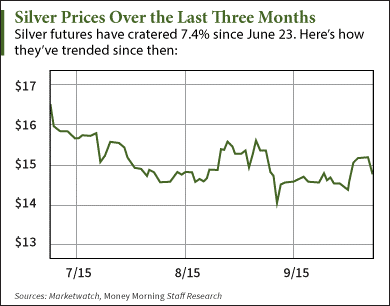 The silver price per ounce today (Wednesday) tumbled into the red as concerns mount over China's economic slowdown.
At 2:50 p.m. this afternoon, the spot silver price per ounce was down 0.2% and trading at $14.73. Silver futures – which trade 5,000 troy ounces per contract – were down 0.1% to $14.75 today.
Futures have been extremely volatile recently. They hit a six-year low of $14.11 on Aug. 26, two days after most major commodities hit their lowest level since 1999.
The decline in silver prices today comes as more weak data pours out regarding China's economy. The Caixin Manufacturing Purchasing Managers' Index – a gauge of nationwide manufacturing activity – fell from 47.3 in August to 47.0 in September. That's the lowest level since March 2009, when the world's second-largest economy was sinking from the Great Recession. Today's report follows Sept. 8's weak trading numbers, which showed August imports plunged by 14% from a year ago.
Like most commodities, silver is priced in U.S. dollars. That means Chinese silver imports become more expensive when China's economy falters. As one of the world's largest consumers of major commodities like silver and oil, China's weak data could depress the silver price per ounce if it continues throughout the rest of the year.
Despite the bleak short-term outlook for silver prices, the metal is still a healthy long-term addition to your portfolio.
You see, many traders don't understand that silver isn't meant to be played for explosive profits. In general, bullion is a way to diversify your portfolio and provide an asset uncorrelated to broader market volatility.
According to Money Morning Defense & Tech Specialist Michael A. Robinson, buying physical silver is a healthy investment regardless of where the price moves. It's also less risky than trading future contracts as a speculator.
"I have physical silver," Robinson noted. "I might have bought some at the top, but I don't care where the price goes to; I will not sell that physical silver. It's there for a reason – just like I have insurance on my car, I have insurance in case of a disaster."
There are plenty of benefits to buying physical silver, but the biggest one is how it can insulate you from erratic market behavior.
Here's a closer look at four ways you can profit from buying physical silver…
Follow us on Twitter at @AlexMcGuire92 and @moneymorning.