As we've previously discussed in Oil & Energy Investor, major infrastructure for solar and wind power networks is complete, while the cost of generating power from either has reached grid parity with traditional sources of electricity.
And now there is a new centerpiece for the accelerating move to renewable energy...
Hawaii.
The state has opted to go all out on alternative energy. In May, its legislature overwhelmingly passed a plan to move to complete independence from fossil fuels for power generation. Governor David Ige has put a goal on all of this: 100% by 2045.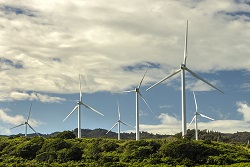 Already, as the governor remarked in late August, "The state is creating a number of research institutions and working with a consortium of private companies in what it calls an 'Energy Excelerator,' which has generated $400 million in investment."
But Hawaii has an unusual partner in moving away from its reliance on oil and natural gas:
The U.S. military.
What's happening in Hawaii may allow us to make some nice money from a state deciding to go green... and from the military's need to go off the grid...
New Oil- and Gas-Free Initiatives
You see, because of rising security concerns, the Navy, Army, and Air Force are dead set on generating one gigawatt each of their own energy from sources not based on the traditional grid.
The Navy wants to accomplish this in the next 18 months.
When the power goes out, whether because of an intentional attack or severe weather, military bases need to keep running. Relying on power from the traditional grid undermines their mission.
That's where Hawaii comes in...
Most of the state's existing power plants are in vulnerable areas, if not from enemy attack, then certainly from uncontrollable weather events.
A first initiative has produced two exciting developments...
Join the conversation. Click here to jump to comments…
About the Author
Dr. Kent Moors is an internationally recognized expert in oil and natural gas policy, risk assessment, and emerging market economic development. He serves as an advisor to many U.S. governors and foreign governments. Kent details his latest global travels in his free Oil & Energy Investor e-letter. He makes specific investment recommendations in his newsletter, the Energy Advantage. For more active investors, he issues shorter-term trades in his Energy Inner Circle.