When it comes to the viewpoints of popes on economics, they've historically leaned toward anticapitalist sentiment. The current Pope Francis is no exception…
The Holy See has criticized trickle-down theories and the pursuit of free-market growth. He scolds entire governments over their crippling debt that prevents the poor from "choosing their own destiny," reported Reuters on Sept. 23.
Some Republicans believe the pope should keep his political and economic agendas to himself. Stuart Varney, conservative host of FOX  Business' "Varney & Co.", warned that Francis and U.S. President Barack Obama will try to reshape the world by taxing the rich and redistributing the wealth, reported CNN on Sept. 15.
But like the 266 popes who came before him, speaking out on flashpoints like economic policy is what Francis does best.
Let's have a look at some choice words this past century's popes had to say about economics…
A History of Quotes from Popes on Economics: People > Capital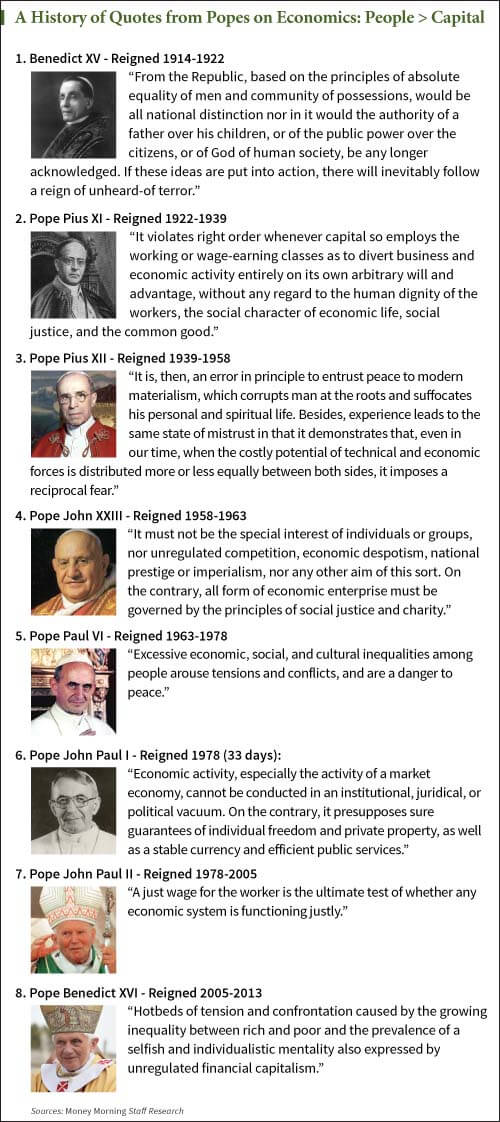 Follow us on Twitter @moneymorning.
Hillary Has an Opinion! The Democratic frontrunner had been keeping quiet about her stance on the Keystone XL pipeline. She was hoping the State Department would weigh in on the matter first. But that wasn't going to happen, so Clinton caved and told us her true feelings. Here's how her revelation drew cheers and jeers…
Related Articles: