When I started Total Wealth, I promised that I would give you a blend of tips, tactics, and specific trading ideas to help you maximize your wealth based on the events of the day.
Today I'm going to keep that promise with a look at how to trade Volkswagen right now, using a brand new Total Wealth tactic I think you're going to love.
What I like about this trade is that it's easy to understand and even easier to implement.
Best of all, the trade I'm going to share with you today has the potential to turn a profit no matter whether the broader markets go up, down, or simply nowhere.
Let's get started!
VW's Fall Highlights Tremendous Profit Potential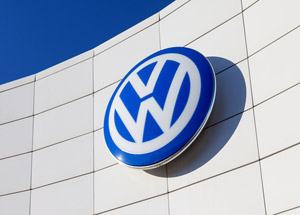 German auto giant Volkswagen AG (OTCMKTS ADR: VLKAY) has been clobbered on news that the company deliberately programmed more than 500,000 vehicles to emit lower levels of emissions during official testing than when they're on the road.
As if that wasn't enough, the company admitted Tuesday morning that internal investigations appear to involve another 11 million VW vehicles around the world. It's a betrayal of customers everywhere, who thought they were buying greener, energy-efficient vehicles - including yours truly.
I believe the appropriate German expression is: "Ach du lieber!"
The company's already set aside $7.3 billion in an effort to cover recalls, but the penalties could top $18 billion in the United States alone. Worldwide, the number could be double or even triple that amount, if investigations in South Korea, Britain, France, Italy, and other countries find similar problems.
The reputational damage to the VW brand, though, may represent an extinction-level event. Nobody is talking about that yet, but you can bet your farfegnugen that they will.
A 2010 joint study by Lin Bai of the University of Cincinnati College of Law, James Cox of the Duke University School of Law, and Randall Thomas of the Vanderbilt University Law School found that companies engaged in fraudulent behavior may suffer financial punishment at the hands of the financial markets averaging 7.5 times that of any legal penalties.
VW shares, as you might expect, have tanked. They're down 29% in heavy trading over the past few days. Almost a third of the company's value has simply vaporized.
Millions of investors, large and small alike, are reeling, with shares of BMW and Daimler taking corresponding hits of 6% and 7% respectively, simply because they're German-based, even though the issue does not affect their cars.
For most investors, this is the end of the road - pun absolutely intended. They can't imagine a way out, let alone how to profit from the situation.
But I can, and that's what I want to share with you today.
Introducing a New Total Wealth Tactic Perfectly Suited for "DieselGate"
Most investors have never heard of a "pairs trade." That's what you call a market-neutral strategy many pros use in situations like this one.
Technically speaking, a pairs trade is a form of statistical arbitrage. That's a fancy way of saying that it has two parts and that the relationship between the parts is such that you can profit as the spread between them changes.
First pioneered in the 1980s at Morgan Stanley, a pairs trade typically involves two highly correlated securities. You buy one and short the other simultaneously, creating a "spread." Then, as one weakens and the other strengthens, the spread changes. And that's your profit mechanism.
Imagine, for example, Wal-Mart Stores Inc. (NYSE: WMT) and Target Corp. (NYSE: TGT).
Historically, the companies have tracked relatively closely, moving more or less in sync with market conditions. If Wal-Mart began looking too hot while Target stayed flat, a trader could buy Target stock while simultaneously selling Wal-Mart stock short.
If Target rose to "catch up," as is often the case in today's highly computerized markets, the trader would make money on the Target stock. Or, if Wal-Mart stock began to slip, he's set himself up for profits, having shorted the Bentonville giant.
Whether the markets rise or fall is moot once this trade is in motion. It's the relationship between the two stocks that matters.
Pairs trades have a number of key advantages.
First, they're great in rocky markets because they help you control risk. It's not uncommon, for example, to have both stocks in a pairs trade fall on a big down day. While that would clobber regular investors, pairs traders may remain completely neutral or even profit if the relationship changes in their favor.
Second, pairs trades are not market-driven. They can potentially profit when the markets go up, when they go down, or even when they go nowhere at all. Remember, it's the relative performance that you're after here.
Third, there's no directional risk. Because a pairs trade always has one long and one short position, the first position is constantly hedging the second.
And fourth, because of the way they work, pairs trades can be very low cost or even no cost. It's not uncommon for the short position, for example, to pay for the long. Margin requirements, as a related item, are typically much smaller, too, because drawdowns are minimal by virtue of the fact that they're always offset.
So let's return to VW.
There is no doubt in my mind that VW is in serious trouble. I think the company's stock is going to take a real pounding and that the financial penalties potentially at hand here will eviscerate earnings for years to come. Customer trust has been shattered, especially among those green-minded drivers who thought they were buying eco-friendly cars.
If the markets take off, VW is probably going to get left behind. If the markets fall, VW will probably fall faster. Nobody wants to be associated with a liar, let alone a company that may have deliberately engineered its products to gain an edge at the expense of the investing public.
Here's one way to play that Total Wealth style using your newly gained knowledge.
Simultaneously buy the S&P 500 using an ETF like the SPDR S&P 500 ETF (NYSE Arca: SPY) and sell short an equivalent dollar amount of VW stock. An equivalent number of shares won't work, so don't mistakenly assume that 100 shares of SPY will offset 100 shares of VW.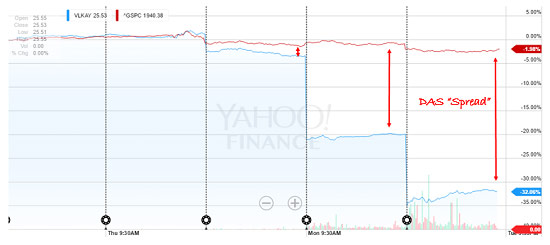 As I write this, SPY is trading at $193.60, so that means 100 shares will set you back $19,360, excluding commissions. VLKAY is trading at $25.58. Consequently, you'd sell short roughly 756 shares of VLKAY ($19,360 divided by $25.58 equals 756.84 shares).
If you wanted to follow along with much smaller amounts, the math is the same. For example, let's say you wanted to risk $1,000 on this trade. You could buy 5 shares of SPY and sell short 39 shares of VLKAY, again not including commissions that vary from broker to broker.
As long as VW does, in fact, lag the broader markets and the S&P 500 itself in the months ahead, the trade will make money.
As an aside, you can use a trade like this for any company you expect to underperform the broader markets. We've talked about Shake Shack Inc. (NYSE: SHAK), Zoe's Kitchen (NYSE: ZOES), Twitter Inc. (NYSE: TWTR), and GoPro Inc. (Nasdaq: GPRO) as being terrible investments, for example. They're all great candidates for this kind of trade at the moment.
Now, are there some gotchas?
Yep.
The biggest is that the spread could narrow instead of widen. That means one or more of the positions go against a trader taking the bet I've described. VW, for example, could appreciate faster than the S&P 500 on nothing more than bottom fishing. A positive news story would do it, too. Even a decent apology would change things.
Pairs traders typically have higher commissions because a single trade involves commissions on both sides. Remember, you're buying and selling at the same time.
Then there's slippage, meaning that a trader may not get exactly the fill he or she is looking for. Pairs trading can involve odd lots that are by their very nature more thinly traded, for example. Or, partial fills.
In closing, pairs trades, like our lowball orders, are a professional-grade tactic you can use very effectively as an individual investor. Moreover, they're tailor-made for the kind of situation VW faces now.
Follow us on Twitter @moneymorning.
Editor's Note: "Pairs trades" work whether the markets move up, down, or sideways - but Keith has an even more powerful strategy for outperforming markets that he's already shared with Total Wealth readers. It's how his very first recommendation to Total Wealth subscribers doubled within six weeks of his recommending it - and Keith still sees more doubles in store for the little robotics company that returned more than 30% in 11 months while the major indices suffered. For a full and free report on the company poised to conquer the robotics revolution - including ticker symbol - sign up for Total Wealth here - it's free!
Join the conversation. Click here to jump to comments…
About the Author
Keith is a seasoned market analyst and professional trader with more than 37 years of global experience. He is one of very few experts to correctly see both the dot.bomb crisis and the ongoing financial crisis coming ahead of time - and one of even fewer to help millions of investors around the world successfully navigate them both. Forbes hailed him as a "Market Visionary." He is a regular on FOX Business News and Yahoo! Finance, and his observations have been featured in Bloomberg, The Wall Street Journal, WIRED, and MarketWatch. Keith previously led The Money Map Report, Money Map's flagship newsletter, as Chief Investment Strategist, from 20007 to 2020. Keith holds a BS in management and finance from Skidmore College and an MS in international finance (with a focus on Japanese business science) from Chaminade University. He regularly travels the world in search of investment opportunities others don't yet see or understand.