If I tell you that I love to trade options on one particular stock, which one do you think it is?
Odds are you're picturing a stock that continually trades higher, a stock that makes higher highs and higher lows, a stock that regularly beats analyst expectations and gets a big boost when it reports stellar earnings, a stock that's been rising more or less with the markets for the past six years.
And you'd be right... but only partly right.
Frankly, with options trading, I don't care WHICH direction a stock is headed.
I just need it to move...
And this "simple" indicator tells me everything I need in one line.
The One Indicator You Need to Spot the Latest Trends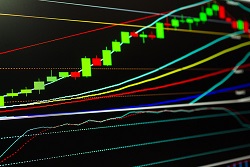 If you're a beginner, one of the easiest ways to pick stocks is to use a moving average to help you get a clear picture of where a stock is headed.
A moving average is a simple technical analysis tool that gives you the average price data of a stock or ETF over a specific time period (you can tailor it to whatever timeframe you like, making it a good tool for both short-term and long-term trades).
There are two types of moving averages: simple and exponential.
The simple moving average is calculated by adding up the prices and dividing by the number. So to find a 50-day SMA, you add up the last 50 prices and divide by 50. The exponential moving average is a bit more complex, as more recent prices are weighted more heavily in the calculations (it also tends to react quicker because of this weighting).
For our purposes here, we're going to use the simple moving average so you can follow along without having to do any complicated math.
As I'll show you in a moment, using a moving average cuts out a lot of the static on a price chart and helps you focus in on a stock's overall trend rather than its intraday ups and downs.
You'll also see - and this is key - that a moving average can also represent a stock's support or resistance levels in a given timeframe. That gives you a good idea of a stock's recent floor and ceiling.
When you're trading options, you can use moving averages to spot trends, determine whether to buy calls or puts, figure out which strike prices you want to target, and how long - based on the price action in the moving average - it will take for the stock to move enough for your options to become profitable.
Let me give you three examples.
Join the conversation. Click here to jump to comments…
About the Author
Tom Gentile, options trading specialist for Money Map Press, is widely known as America's No. 1 Pattern Trader thanks to his nearly 30 years of experience spotting lucrative patterns in options trading. Tom has taught over 300,000 traders his option trading secrets in a variety of settings, including seminars and workshops. He's also a bestselling author of eight books and training courses.