The Nike stock price is up more than 9% this morning (Friday) after the company reported a quarterly earnings and revenue beat yesterday. Nike Inc. (NYSE: NKE) stock hit an all-time high of $125.80 in morning trading today.
The company reported a Q1 2016 earnings per share (EPS) of $1.34, which topped estimates of $1.19 per share. Revenue came in at $8.41 billion, which was an increase of 5% from the previous year. Estimates had called for $8.22 billion.
Profits hit $1.18 billion in the quarter. That was an increase of 23% from last year.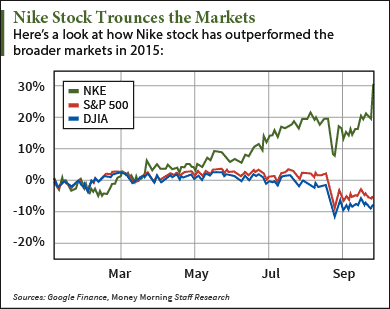 But the biggest news for the Nike stock price was Nike's soaring sales in China. Sales in China grew 30% in Q1 to $886 million.
Despite concerns over slowing economic growth in China, Nike officials announced that in China, "our brand has never been stronger and our marketplace has never been more healthy."
Nike stock is riding a wave of momentum as consumers continue to buy more athletic apparel rather than traditional apparel.
"The consumer is spending three times as much on athleisure wear versus regular apparel," trader Stephanie Link told CNBC after the earnings release. "So you have that in your favor. In addition, you've got this company that has plowed so much in R&D over the years."
The Nike stock price is now up 31% year to date. That compares to losses of 8% and 5.4% for the Dow Jones Industrial Average and S&P 500 in 2015.
Money Morning Defense & Tech Specialist Michael A. Robinson pointed out Nike's huge profit opportunity to investors on March 6. Since then, the stock has climbed 27.1%.
And the Nike stock price isn't the only athletic wear company that has gained momentum this year. Adidas AG (OTCMKTS ADR: ADDYY) is up nearly 16% year to date. But Under Armour Inc. (NYSE: UA) has been the biggest winner in 2015. Shares of UA are up more than 54% in 2015.
The Bottom Line: The Nike stock price reached an all-time high today after reporting an earnings and revenue beat. The stock is now up 31% year to date and 27% since we first recommended it in March. Athletic apparel stocks will continue to outperform as consumers continue to switch to athletic wear.
Follow us on Twitter @moneymorning. Like us on Facebook: Money Morning.
Protect Yourself from a Total Market Collapse: According to CIA Asymmetric Threat Advisor Jim Rickards, there are five "flashpoints" that signal the death of the U.S. dollar and a complete economic collapse in the United States. Here's how you can protect yourself, and your money, before it's too late…
Related Articles: