The U.S. Energy Information Administration just released its latest report on oil. And although I'm no conspiracy theorist, what's going on with oil prices has all the earmarks of a setup.
Each week, the report tells us what the crude oil and oil product markets looked like as of the previous Friday. It is usually the yardstick by which analysts appraise everything from oil supply through refinery utilization to the markets for processed products such as gasoline, diesel fuel, and low sulfur content heating oil.
This week's report showed criteria that would normally signal upward pressure on prices: a drawdown in oil supply, tighter refinery usage, and a widening spread between crude oil and oil product prices.
Now, this last criterion may be the most important for assessing pricing across the board. It involves the relationship between crude raw material pricing and supply on the one hand and similar considerations for gasoline and heating oil on the other (heating oil serves as a surrogate for diesel in these calculations since both distillates come from the same refinery cut).
Simply put, prices should not decline when the spread is rising.
So why are oil prices heading downward?
Distortion currently occurring in the market.
Here are the culprits behind this price manipulation… as well as how we can profit from these artificial moves…
A Drawdown Should Push Oil Prices Up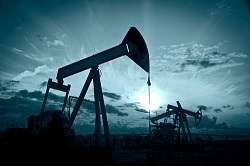 In the past few weeks, the drawdown on supply has been greater than anticipated, in some cases by a significant margin. That spread is improving, which usually contributes to an overall rise in price for the underlying raw material.
Yet the pundits continue to grasp at straws in their attempt to explain the resistance to a rise in crude oil and oil product prices.
This time around the "spin" involves claiming a decline in gasoline demand has offset the upward pressure of an expanding drawdown on the storage side. For the past two weeks this has been shaping up as a pronounced cycle.
For one thing, the overall drawdown has been multiples of what the American Petroleum Institute had recently forecast. This week, it was no less than six times the industry estimate.
For another, the drawdown at Cushing, Okla., is even more important than the figure as a whole. Cushing is where the West Texas Intermediate (WTI) daily pricing peg is set for crude futures contracts trading in New York using the WTI benchmark. Consecutive weeks of reductions there have had a direct impact on the spread.
Not only are the concerns about gasoline demand missing the point, but they are themselves quite misleading when taken alone. Gasoline demand usually decreases this time of year, since refineries are already well into the cycle of switching from primary output in high-octane gasoline to heating fuel. A deeper warm trend in the fall, for example, almost always results in a spike in gas prices as usage extends longer than expected into what is supposed to be the cooler season.
Also, we have just experienced a tick up in gasoline usage in August and through Labor Day beyond what had been expected. This is at best a non-issue for this time of year.
Join the conversation. Click here to jump to comments…
About the Author
Dr. Kent Moors is an internationally recognized expert in oil and natural gas policy, risk assessment, and emerging market economic development. He serves as an advisor to many U.S. governors and foreign governments. Kent details his latest global travels in his free Oil & Energy Investor e-letter. He makes specific investment recommendations in his newsletter, the Energy Advantage. For more active investors, he issues shorter-term trades in his Energy Inner Circle.