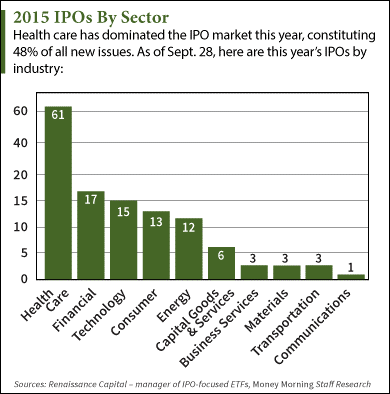 There are 11 new IPOs this week expected to hit the market. According to Renaissance Capital, a manager of IPO-focused ETFs, the 11 deals could raise a combined $1.4 billion.
The 2015 IPO market has been abnormally slow compared to last year. In fact, there are more IPOs this week than in all of August.
There have only been 131 deals so far in 2015, down nearly 40% from the same period in 2014. Out of the 134 IPOs so far this year, 61 of them have been from the healthcare sector.
The most anticipated deal on this week's busy IPO calendar is Performance Food Group Co. (NYSE: PFGC).
Performance Food Group is the third-largest foodservice distributor in the United States after SYSCO Corp. (NYSE: SYY) and U.S. Foods. The company's foodservice segment serves independent restaurants and constitutes 59% of its sales. Its vending segment serves snack foods to offices, colleges, and big box retailers and makes up 16% of its sales.
The 140-year-old company posted $15.3 billion in sales between June 2014 and June 2015. Performance Food Group will raise $341 million by selling 14.5 million shares at a $22 to $25 price range. It's valued at $2.4 billion and will hit the market on Thursday, Oct. 1.
Here are 10 more new IPOs this week on the upcoming IPO calendar…
10 More New IPOs This Week
Surgery Partners Inc. (Nasdaq: SGRY) is a medical company that owns or operates 99 surgical facilities across 28 states. The Tennessee-based firm booked $713 million in sales between June 2014 and June 2015. The Surgery Partners IPO is the largest deal this week. It hopes to raise $350 million by offering 14.3 million shares at a price range of $23 to $26. The firm commands a market valuation of $1.2 billion and will debut on Thursday, Oct. 1.
Money Morning Members: Keep reading for nine more new IPOs this week. For those new to Money Morning, sign up to keep reading – it's completely free…