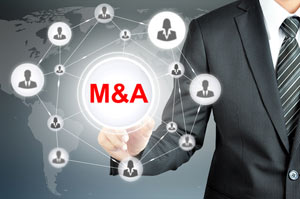 The WMB stock price cratered today (Monday) following Williams Companies Inc.'s (NYSE: WMB) acquisition in the Energy Transfer merger.
Early this morning, pipeline giant Energy Transfer Equity LP (NYSE: ETE) announced it will buy Williams Cos. for $32.6 billion. ETE will pay $43.50 per share – a 4.6% premium to Friday's closing WMB stock price of $41.60.
Energy Transfer has been pursuing Williams for most of the year. Willams created a bid war back in June when it rejected Energy Transfer's $48 billion offer. Williams said the offer had drastically undervalued the company.
Now, the Energy Transfer merger will create one of the five largest energy companies in the world. The deal also gives Energy Transfer a massive geographical advantage in the United States. Williams' storage facilities are concentrated in the northeastern region, while Energy Transfer's pipelines are located across the south and Midwest.
But the Energy Transfer merger caused a sharp sell-off in the WMB stock price. At 12:40 p.m., shares of WMB stock were down 9.7% and trading at $37.58.
But that's just a knee-jerk reaction. According to Money Morning Global Energy Strategist Dr. Kent Moors, the wave of mergers and acquisitions washing over the market right now will ultimately strengthen the market and push oil stocks higher.
In fact, the Energy Transfer merger is just the latest in a string of huge deals Moors saw coming…
Back in April, Royal Dutch Shell Plc. (NYSE ADR: RDS.A) snatched up BG Group Plc. (OTCMKTS ADR: BRGYY) for $70 billion. It's the largest energy merger in more than a decade and will create the largest producer of liquefied natural gas in the world.
"The Shell-BG [transaction] is the first clear megamerger option crossing the oil-gas division," Moors said in April. "We will see more of these as the new energy balance among a widening number of energy sources kicks in."
Targeting these huge M&A deals is just one of three ways to find the best oil stocks to buy.
Here's Moors' three-part strategy that will lead you to energy profits as we move into the last quarter of 2015…
Alex McGuire is an associate editor for Money Morning who writes about energy. Follow him on Twitter at @AlexMcGuire92 for the biggest oil and gas updates.