Democratic presidential front-runner Hillary Clinton just demonstrated exactly how social media affects the market.
The former first lady and secretary of state took to Twitter Inc. (NYSE: TWTR) on Sept. 21 to rail against biopharmaceutical CEO Martin Shkreli. The villainous Shkreli had jacked up the cost of a life-saving drug 5,000% overnight.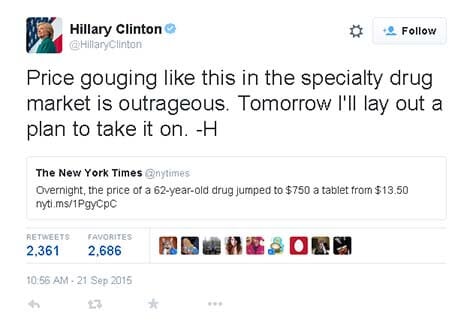 Clinton's tirade raised fears that Washington could act on the news, enacting slapdash legislation to stop drug price hikes from happening.
This fear sent the market to quake in its boots…
Biotech stocks plummeted. "The iShares Nasdaq Biotechnology ETF (Nasdaq: IBB) plunged nearly 8% on the week as of Thursday's (Sept. 24) closing bell. Individual biotech stocks like Celgene Corp. (Nasdaq: CELG), Biogen Inc. (Nasdaq: BIIB), and Regeneron Pharmaceuticals Inc. (Nasdaq: REGN) also suffered steep losses," reported CNN Money on Sept. 25, 2015.
If you're wondering how one teeny tweet could move the market so much, then you might want to brush up on your social media awareness. These days, a post or a picture on social media platforms like Facebook Inc. (Nasdaq: FB), Instagram, or Twitter can have a massive impact on U.S. markets.
Let's have a look at other memorable examples of how social media affects the market…
4 Examples of How Social Media Affects the Market
How Social Media Affects the Market Example No. 1: On May 28, 2013, a CSX Corp. (NYSE: CSX) train crashed in Rosedale, Md. Local responders started tweeting about it right away. Within the next 90 minutes, CSX lost $500 million in market cap.
How Social Media Affects the Market Example No. 2: On April 24, 2013, hackers took over the Associated Press' Twitter account. They falsely reported there had been explosions at the White House and that the president was hurt. The tweet was online for a few minutes but was retweeted more than 3,000 times before Twitter took the account offline, reported Bloomberg Business that same day.
The AP immediately confirmed the news was not true, but the tweet was up long enough to send a shudder through the stock market. The Dow fell 146 points before recovering, reported QZ later that day. The S&P 500, which was hovering around 1,576 before the tweet went live, tumbled 0.8% in a matter of moments, falling to nearly 1,563 at 1:10 p.m. ET. It bounced back once the tweets were revealed as false.
How Social Media Affects the Market Example No. 3: On Feb. 1, 2015, a message posted on a hoax Twitter account was used as part of a securities fraud scheme. The tweet, sent from a fake account dressed up as a well-known equity research group, contained  false information regarding Silicon Valley-based audio-processing firm Audience Inc. (Nasdaq: ADNC).
The tweet caused a frenzied sell-off that had some market participants convinced it was the work of high-frequency trading robots. Audience stock fell from $12 to $8.87 in just two minutes before recovering, reported The Memphis Business Journal on April 25, 2013.
How Social Media Affects the Market Example No. 4: Twitter sentiment can predict stock changes even after the market closes. This was the case with Amazon Inc. (Nasdaq: AMZN) on July 23 of this year.
"[Social media analytics] data showed a sharp increase in sentiment metrics around 2:49 pm [for AMZN stock]. By 2:51 pm, the sentiment on Amazon was two standard deviations higher than its typical level. The stock was trading at $480.45 at this point," reported The Street. Then, at market close, shares traded at $482.18. After the close, that positive sentiment really took off – Amazon stock soared up more than 17% to $568.
Follow us on Twitter @moneymorning.
Just Popin' Around: What happens to the stock market when the pope visits U.S. soil is nothing short of a miracle. Friday, Sept. 25 marked the fifth time in history a pontiff addressed the United Nations Headquarters in New York City. Past visits from the Holy See have always included this one unintentional, happy gift…
Related Articles: