Recently I responded to several reader questions about tech investing.
But there was one question I decided to save because it deserves its very own conversation. It comes from "Gwynne B," who describes herself as being 70 years old and an investing "true novice" - and wants to know how to get started with tech investing.
I get this question all the time from everyone from college students to retirees.
And the advice I want to share with you today applies to just about everyone who is just getting started in the stock market - even the very turbulent market we've been seeing all year long.
Today I'm going to show you three investments that will do two things.
First, they will help you get started by providing a solid foundation for your portfolio.
Second, I believe all three will crush the market over the next several years...
Your First Step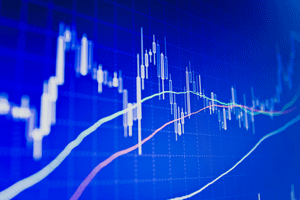 Let me start off by saying it's never too late - and rarely a wrong time - to get into the stock market. I say that because a lot of investors are worried about the market's current volatility.
After all, of the 24 trading days between Aug. 20 and Sept. 23, the Standard & Poor's 500 Index experienced eight trading sessions with gains or losses of more than 2%. That means the broad market showed big - and often scary - moves about 33% of the time.
Moreover, the S&P 500 is now down roughly 6% for the year. But rather than let that scare you off, you should now be making plans to invest for the long haul and look on this period as one with new buying opportunities.
As I like to remind investors, the road to wealth is paved with tech - particularly if you take the long view. Just look at how much tech has beaten the broader market over the past decade.
During the period, the S&P 500 is up a respectable 60.5%. By contrast, the tech-centric Nasdaq Composite Index has gained 124%.
I'm not surprised. See, we've passed the tech "tipping point" to such an extent that we are now living in what I call the "convergence economy."
We have deepening interrelationships that run so deep that the U.S. economy now depends on high tech. From smartphones and tablets to GPS for your car and Wi-Fi for your home and office, all of these devices form the backbone of how we work and live.
So, I still strongly believe you should be investing in tech stocks in up markets and choppy ones alike. And a great way to get started is to focus on ETFs, or exchange-traded funds.
Tech ETFs give you a great blend of specialization and diversity because you are buying a basket of stocks in particular fields. ETFs are the single easiest and most cost-effective way to get started in high tech and should be viewed as laying the foundation for the rest of your portfolio.
The best way to play a vehicle like this is to invest regularly. When the market is up, you buy fewer shares, and when the market is off, as it was last week, you buy more. This lowers your average costs and increases your long-term profit.
Here are three tech ETFs you should take a look at and add to your portfolio right now.
Starter Tech Investing Play No. 1: ONEQ
The Fidelity Nasdaq Composite Index Tr Stk (Nasdaq: ONEQ) is a simple, blended investment vehicle that takes advantage of the tech-centric Nasdaq's market-crushing performance.
ONEQ covers the broad global tech ecosystem but focuses in the most important market - the United States. U.S. stocks make up nearly 94% of the roughly 1,940 stocks this ETF holds.
ONEQ's top 10 holdings are a Who's Who of tech leaders in mobile, the web, computing, biotech, and e-commerce. Indeed, I'm talking about Apple Inc. (Nasdaq: AAPL), Microsoft Corp. (Nasdaq: MSFT), and chip giant Intel Corp. (Nasdaq: INTC).
It also includes networking leader Cisco Systems Inc. (Nasdaq: CSCO), Amazon.com Inc. (Nasdaq: AMZN), and Facebook Inc. (Nasdaq: FB).
Though ONEQ is focused on technology, it also provides a good deal of sector diversification. Tech, healthcare, and communications account for 65% of its holdings.
But the remaining 35% cover financial services, consumer cyclicals, and defensive stocks, as well as industrials and a smattering of real estate and basic materials.
This is also a great way to leverage off the exciting small- and micro-cap stocks without all the volatility that comes with these plays. Those two categories make up more than 17% of ONEQ.
Starter Tech Investing Play No. 2: FBT
The First Trust NYSE Arca Biotechnology Index (NYSE Arca: FBT) is much different from ONEQ in that it specializes in cutting-edge biotech and has far fewer holdings. At present, FBT holds only 30 stocks in its portfolio.
Plus, the holdings are fairly well-distributed. Each stock's weight is only about 2% to 4% of the fund. The stocks in FBT range in market caps from just $1 billion to $169 billion.
[mmpazkzone name="in-story" network="9794" site="307044" id="137008" type="4"]
But the median market cap comes in at $8.3 billion. That's large enough to offer stability but small enough to deliver plenty of upside. Though it's off with the rest of the market over the last three months, FBT is up 9.7% for the year, compared to the S&P 500's 6% decline.
And FBT holds some very exciting stocks. We're talking companies like Celldex Therapeutics Inc. (Nasdaq: CLDX), a small-cap firm focused on fighting cancer, and Regeneron Pharmaceuticals Inc. (Nasdaq: REGN), whose main product combats blindness in older people.
FBT also holds Myriad Genetics Inc. (Nasdaq: MYGN), a leader in personalized medicine, as well as Gilead Sciences Inc. (Nasdaq: GILD), which makes the world's top-selling drugs for hepatitis C.
Starter Tech Investing Play No. 3: SKYY
First Trust ISE Cloud Computing Index Fund (Nasdaq: SKYY) is a fairly new fund that started trading four years ago to take advantage of the huge upside for cloud computing. The term refers to how vendors host data and application in remote computing centers and deliver it all via the web.
The respected research firm Forrester predicts cloud computing will increase from a $41 billion base in 2011 to $241 billion in 2020. We're talking growth of 487% over the decade.
Just about everything is moving to the cloud - and not just data for businesses. If you stream movies or music online or pull down data from a website, you are using "the cloud."
Though it holds some fast-moving smaller caps, SKYY is focused on major players. Just look at Amazon.com, which became the cloud industry leader by renting the extra space in its massive data centers to other firms.
SKYY also holds Google, which also built a cloud business by renting out its computer network, and Brightcove Inc. (Nasdaq: BCOV), which helps firms publish, manage, and distribute video.
All three of these ETFs are focused on sectors that will continue to set the pace for the U.S. economy.
And that makes them great foundational plays that take advantage of tech's ability to put you on the road to wealth.
Follow us on Twitter @moneymorning.
Targeting Chinese Tech Stocks: Despite the deluge of bad cyber-related headlines coming out of China, the country has refocused its economy on consumers and tech. So if you want to make money on tech stocks, you've got to aim part of your portfolio at Chinese e-commerce. This investment plays China's renewed emphasis on tech and promises big gains for decades...
About the Author
Michael A. Robinson is a 36-year Silicon Valley veteran and one of the top tech and biotech financial analysts working today. That's because, as a consultant, senior adviser, and board member for Silicon Valley venture capital firms, Michael enjoys privileged access to pioneering CEOs, scientists, and high-profile players. And he brings this entire world of Silicon Valley "insiders" right to you...
He was one of five people involved in early meetings for the $160 billion "cloud" computing phenomenon.
He was there as Lee Iacocca and Roger Smith, the CEOs of Chrysler and GM, led the robotics revolution that saved the U.S. automotive industry.
As cyber-security was becoming a focus of national security, Michael was with Dave DeWalt, the CEO of McAfee, right before Intel acquired his company for $7.8 billion.
This all means the entire world is constantly seeking Michael's insight.
In addition to being a regular guest and panelist on CNBC and Fox Business, he is also a Pulitzer Prize-nominated writer and reporter. His first book Overdrawn: The Bailout of American Savings warned people about the coming financial collapse - years before the word "bailout" became a household word.
Silicon Valley defense publications vie for his analysis. He's worked for Defense Media Network and Signal Magazine, as well as The New York Times, American Enterprise, and The Wall Street Journal.
And even with decades of experience, Michael believes there has never been a moment in time quite like this.
Right now, medical breakthroughs that once took years to develop are moving at a record speed. And that means we are going to see highly lucrative biotech investment opportunities come in fast and furious.
To help you navigate the historic opportunity in biotech, Michael launched the Bio-Tech Profit Alliance.
His other publications include: Strategic Tech Investor, The Nova-X Report, Bio-Technology Profit Alliance and Nexus-9 Network.