Anyone who's ever done search on Google Inc. (Nasdaq: GOOGL, GOOG) knows it costs nothing to do so. The same goes for most Google services, such as Google Docs, Google Maps, and Gmail. All free.
And yet in 2014, Google raked in $14.44 billion in profit on $66 billion in revenue.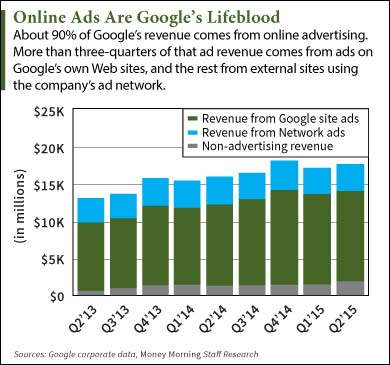 That's a lot of money, and it had to come from somewhere. So how does Google make money?
The short answer is online advertising. That's where about 90% of Google's revenue comes from.
Google's two main sources of advertising are ads that run on its own websites and ads that run on external websites that use Google's ad network. Ads on Google's own sites account for about 77% of the ad revenue, the network ads for the rest.
Here's how it works:
The main Google ad business is called AdWords. Advertisers bid on highly searched keywords to get their business to appear at the very top and to the right of the search results (with a yellow box with the word "ad" in it).
Typically these ads only appear in searches that could result in some sort of commerce. (So no ads in a search for "Hitler's bunker.")
The more likely the search will result in some sort of sale, the higher the bidding for those words – and the higher the revenue for Google.
The most expensive AdWords tend to have to do with insurance. The word "insurance" by itself goes for $26.81, but the phrase "car insurance quotes" is worth $60.83.
That's because people searching for "car insurance quotes" are looking to buy insurance right then and there. That's exactly the target audience an auto insurance company wants.
And the fees are "cost per click" (CPC). So every time a person clicks on an AdWords listing, Google gets paid the current value of the AdWord. You can see how that would add up quickly.
Of course, the user also finds what they're looking for, so everybody wins.
Here are Google's other ways of making money…