Following a summer rout, global stock markets are on track to log their worst quarterly performance since 2011.
Plunging commodity prices, China's tanking stock markets, fears of a Greek default, and fears of a U.S. interest rate hike created extreme volatility in global stock markets in Q3.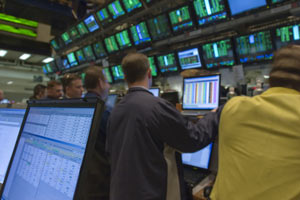 "Global equities are closing in on their worst quarter since 2011, with a number of factors fueling fears in an already jittery market, including weak global growth, driven by deceleration in emerging markets, particularly China," Barclays wrote in an investor report Wednesday.
One of the worst performing global stock markets was China's Shanghai Composite Index. China's key benchmark shed 25% in the quarter, marking its worst showing since 2008.
The Dow, S&P 500, and Nasdaq are all on pace for a 9% loss in the quarter. Germany DAX's is closing in on a 15% decline. France and Italy are expected to show drops of 8% and 13%, respectively.
Emerging markets will report their worst quarter since 2008, according to data Wednesday from the International Institute of Finance (IIF). Amid the sell-off, investors across the globe dumped $40 billion of emerging market assets.
Global consultancy IHS estimates economic growth in emerging markets has dropped from 7.4% in 2010 to 3.8% in 2015.
The International Monetary Fund also downgraded its global economic outlook in July. The IMF lowered its 2015 global growth forecast by 0.2% to 3.3%. That's down from 3.4% in 2014. It's also the slowest pace since the world economy contracted in 2009.
Anemic growth, piles of debt, unyielding high international unemployment (25.6% in Greece and 22.7% in Spain), and limited policy options don't bode well for the global economy.
In fact, Citigroup released an alarming report on the state of global economy earlier this month. The most likely scenario, according to Citi, is one in which China drags the world into a global recession.
Here's what's next for the global stock markets, and how you can prepare yourself...