The Chesapeake Energy stock price climbed 3% to $7 today after the energy producer announced it will slash its workforce by 15% amid falling natural gas and crude oil prices.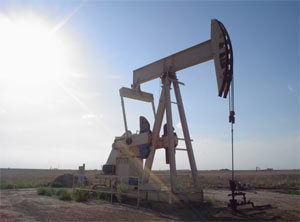 The bulk of the 740 layoffs will be at its Oklahoma City headquarters, where more than 560 employees will be let go. Following the sharp workforce reduction, Chesapeake Energy Corp.'s (NYSE: CHK) headcount will be about 4,000, including roughly 2,500 in Oklahoma City.
In a letter to employees, Chesapeake Chief Executive Officer Doug Lawler said, "The current commodity price environment continues to be a challenge for our industry and for Chesapeake. Over the past year, we have taken significant actions in response to the low commodity prices by reducing our costs and decreasing our capital spending."
Lawler said the layoffs will enhance the long-term competitiveness and strength of Chesapeake.
According to global outplacement consultancy Challenger, Grey & Christmas, 71,628 jobs have been cut in the energy sector this year. That's up from 8,052 a year ago.
Chesapeake, a big player in both the oil and natural gas markets, has been particularly hard hit. And so has the Chesapeake Energy stock price...
Natural Gas Sends Chesapeake Stock Price Lower
The Chesapeake Energy stock price is down a punishing 65.1% year to date. While the plunge in oil prices has weighed on shares, the downward trend in natural gas prices is also pressuring the stock.
Natural gas has dropped to $2.57 BTUs from $6 in 2014. Many are worried prices could fall even further.
In 2012, natural gas prices fell as low as $1.99 BTUs. Worst of all, Chesapeake often gets less than market price because many of its deposits are in parts of the United States where there is little available pipeline capacity, weakening its bargaining position.
Additionally, Chesapeake's heavy debt load, the increasingly tight credit in the space, and the company's unconventional hedges against natural gas price declines, called "three-way collars," have left it more exposed than traditional hedges would be.
Since the start of 2014, the Chesapeake Energy stock price has fallen nearly 74%. While shares are certainly discounted now, this is not the time to buy back into the sliding energy stock.
Stay informed on what's going on in the markets by following us on Twitter @moneymorning.
Protect Yourself from a Total Market Collapse: According to CIA Asymmetric Threat Advisor Jim Rickards, there are five "flashpoints" that signal the death of the U.S. dollar and a complete economic collapse in the United States. Here's how you can protect yourself, and your money, before it's too late...
Related Articles: