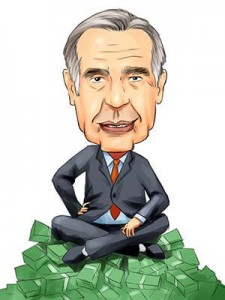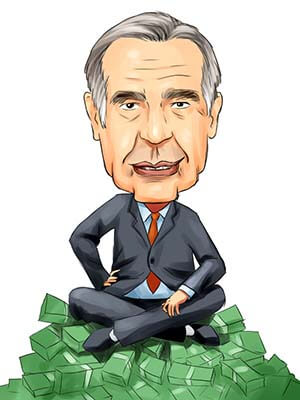 A Carl Icahn report on income inequality out this week contained several pointed criticisms of U.S. tax policy.
The report was released to "a number of people" by the activist billionaire on Sept. 28, but Yahoo! Finance got hold of it. GOP presidential front-runner Donald Trump was among the chosen. This was just before Trump's big tax plan speech that same day.
Less than 24 hours after the speech, in the wee hours of the night, Icahn officially endorsed Trump's presidential run.
"A few of the ideas in the paper are reflected in Donald Trump's [tax] plan," Icahn told Yahoo! Finance. "I think that shows what an open-minded guy he is, which is what we need in the White House."
Icahn is a highly successful entrepreneur who made his fortune buying stakes in poorly performing companies and turning them around. Named in TIME's "100 Most Influential People" of 2014, many look to Icahn for sage-like investing advice.
That his report so closely matches Donald Trump's tax plan helps further legitimize the 2016 GOP front-runner...
Similarities Between the Carl Icahn Report and Trump's Tax Plan
Carl Icahn Report Tax Policy Change No. 1: The activist investor bemoaned the wage gap in his paper, taking what Yahoo! said was a decidedly egalitarian approach to politics.
"The average worker makes approximately $50,000 per year. The average annual compensation of the thirty highest paid CEOs is approximately $47 million per year. (I don't believe this disparity was ever this great even in most dictatorships!)," Icahn said. "You will hear many politicians argue that government should not interfere with the 'business judgment', of our companies and, therefore they cannot pass laws to encourage 'income equality.' This is completely untrue - the sad fact is that the government has actually passed many laws that have brought about 'income inequality.'"
[mmpazkzone name="in-story" network="9794" site="307044" id="137008" type="4"]
Income inequality is also a central focus of Trump's tax plan, which consists of four tax brackets for taxpayers - the lowest of which would pay zero income tax.
Tax breaks for ordinary working-class Americans reflect Trump's campaign emphasis on restoring the middle class, which has suffered increasingly lower wages as jobs are displaced offshore.
Carl Icahn Report Tax Policy Change No. 2: Icahn also railed against Wall Street CEOs in his report. "...the American worker is also getting 'screwed' ...boards and CEOs have allowed property, plants and equipment of our companies to become the oldest on record and, as a result, the growth rate in productivity per hour of our workers has also become the worst on record and has actually decreased compared to last year. The average age of corporate property, plants and equipment is an astounding 22.3 years, the oldest it has reached since 1941," Icahn said. "But I do not believe that most boards and CEOs really give a damn. With many exceptions, CEOs only care about short term results. Perhaps you can't really blame them because unfortunately, Wall Street judges them based on quarter to quarter results and CEOs receive their egregious compensation based on those short-term results."
Trump has also loudly criticized CEO pay. While appearing on CBS' "Face the Nation" on Sept. 9, Trump called CEO pay outrageous and said that it's very hard to have CEOs removed from their powerful positions. He said their salaries should be lowered, though he's not yet sure how to go about ensuring that happens.
Carl Icahn Report Tax Policy Change No. 3: Lastly, Icahn criticized the use of junk bonds for doing business deals. He went so far as to compare such transactions to drug addiction. "Making acquisitions with junk bonds may increase earnings for the short-term, but this gives companies a short-term high, just as heroin does to their users."
Icahn understands the appeal, being the junk-bond king that he is. But he said ordinary investors shouldn't buy debt sold by highly leveraged companies.
Interestingly enough, Trump has not done much admonishing of junk-bond transactions during his campaigning thus far. This could have to with the bankruptcy he almost filed for in 1990 due to personal and business debt acquired with high-interest junk bonds, according to Newsweek on June 17.
But Trump has made a point time and again that his decision to file for bankruptcy in all four cases was simply a common business decision and a smart move to make.
Stay tuned to Money Morning for more on the 2016 presidential election. You can follow us on Twitter @moneymorning or like us on Facebook.
Why Don't You Tell Us How You Really Feel: The former first lady and Democratic front-runner Hillary Clinton has been under intense pressure from the public and the media to reveal her stance on the Keystone pipeline controversy. Well, she finally did - and her answer drew both cheers and jeers...
Related Articles:
[mmpazkzone name="end-story-hostage" network="9794" site="307044" id="138536" type="4"]