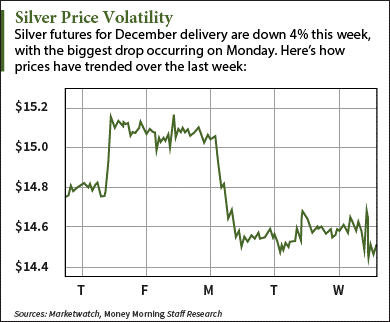 Silver prices today (Wednesday) fell 0.5% after payroll processor ADP released a better than expected jobs report.
At 1:20 p.m., silver prices today were trading at $14.50. Silver prices have fallen 4% this week and dropped 3.6% on Monday alone. Futures are on track for a September loss of 0.6%.
The decline in silver prices today came after ADP reported U.S. companies added 200,000 private sector jobs in September. Economists were anticipating an increase of about 190,000 jobs.
The report adds pressure to silver prices since upbeat economic data could entice the U.S. Federal Reserve to raise interest rates this year. Higher interest rates increases the value of the U.S. dollar and makes dollar-denominated commodities like silver more expensive. That consequently reduces international demand and sends prices lower.
Despite today's dip in the silver price, physical silver is a great safe-haven investment. That's because the precious metal is meant to be viewed as insurance rather than an opportunity for explosive gains.
"I have physical silver," Money Morning Defense & Tech Specialist Michael A. Robinson said earlier this year. "I might have bought some at the top, but I don't care what the price goes to; I will not sell that physical silver. It's there for a reason – just like I have insurance on my car, I have insurance in case of a disaster."
And insurance against market volatility is just one benefit to buying physical silver…
Here are three more ways you can profit from silver investing…
Follow me on Twitter: @AlexMcGuire92.