The Tesla Motors Inc. (Nasdaq: TSLA) stock price opened up 2.1% this morning (Wednesday) after the company hosted its highly anticipated Model X event last night at its factory in Fremont, Calif.
At the event, CEO Elon Musk delivered the first five Model X SUVs. Between 4,000 and 6,000 people were in attendance for the event, however.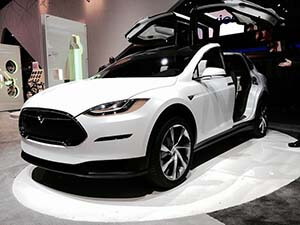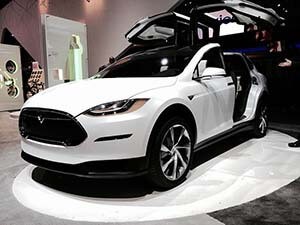 The Model X has a range of about 250 miles and is the second vehicle Tesla has in production. The Tesla Roadster was the company's first car, but is no longer in production.
The Model X will be priced similarly to the Model S sedan, with a starting cost of $70,000. High-end versions of the vehicle will retail at a range between $132,000 and $144,000. One big difference, however, is the Model X's "falcon wing" doors, which open vertically.
CEO Elon Musk has said sales of the Model X will help the company reach its total vehicle delivery goal of 50,000 to 55,000 for the full-year 2015.
Musk has estimates that nearly 25,000 people have already preordered Model X SUVs. However, he said it will take roughly eight to 12 months for customers who order now to receive their vehicle.
The Model X is a huge step forward for Tesla, as the company continues to be at the forefront of the electric-vehicle industry. Musk has said countless times that Tesla is about more than just making cars; the company is focused on changing the industry.
The Model X is just the next step for the company, which is also developing a more moderately priced Model 3 sedan. The Model 3 is expected to cost closer to $30,000.
"The mission of Tesla is to accelerate the advent of sustainable transport," Musk said last night. "It's important to know that any kind of car can go electric."
While the TSLA stock price was little moved today, the stock has outperformed in 2015. Year to date, the TSLA stock price is up 9.9%. That compares to a loss of 8.9% for the Dow Jones, and a loss of 2.8% for the Nasdaq in the same time.
According to Money Morning experts, Tesla stock is one of the best long-term investments on the market for investors who are willing to take on some risk. Here's why we're so bullish on the Tesla stock price from here...
Follow us on Twitter @moneymorning. Like us on Facebook: Money Morning.
Protect Yourself from a Total Market Collapse: According to CIA Asymmetric Threat Advisor Jim Rickards, there are five "flashpoints" that signal the death of the U.S. dollar and a complete economic collapse in the United States. Here's how you can protect yourself, and your money, before it's too late...