The Ferrari IPO date could be here within the next month.
According to a report by CNBC, the Italian luxury automaker could set terms for its market debut as early as Friday. The highly anticipated Ferrari IPO is expected to hit the market sometime in mid-October.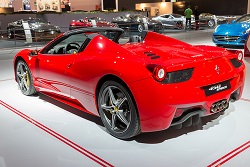 On July 23, Fiat Chrysler Automobiles NV (NYSE: FCAU) filed with the U.S. Securities and Exchange Commission to spin off Ferrari stock with its own initial public offering.
The company originally filed for a $100 million deal, but that size was just a placeholder. According to Renaissance Capital, a manager of IPO-focused ETFs, the Ferrari IPO could generate more than $1 billion. That would value the company at roughly $11 billion.
Once the Ferrari IPO date arrives, retail investors will be able to own shares of one of the most valuable brands in the world. The company maintains its prestigious reputation by capping annual production at around 7,000 vehicles. That strategy ensures demand always outpaces supply.
"There are clear expectations from ourselves as Ferrari brand is unique," said Sergio Marchionne, CEO of Fiat Chrysler, at a presentation in Turin, Italy, on July 3. "There is also a scarcity value as we are just selling a 10% stake."
Fiat Chrysler plans to sell 10% of Ferrari shares through the IPO and distribute 80% to FCAU shareholders. Piero Ferrari, son of founder Enzo Ferrari, plans to keep the 10% he already owns.
We will continue to provide coverage as the Ferrari IPO date approaches. Follow us on Twitter for all of the biggest news on upcoming IPOs.
Like us on Facebook: Money Morning.
The IPO Market Is About to Have an Exciting Quarter… Several billion-dollar IPOs are set to hit the stock market over the next few months. One of them could raise more than every deal in July and August combined. Here are the five most anticipated IPOs to watch in the fourth quarter…