We haven't yet seen the Donald Trump trade plan in written form, as we have with his tax plan, but the front-runner for the Republican presidential nomination has said a lot about what he wants to do.
Unlike the tax proposal, which appears workable if not perfect, the Trump trade plan would be an economic disaster for both the United States and the world.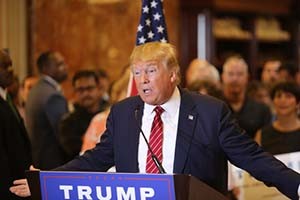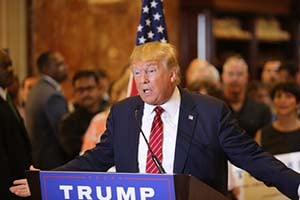 Over the course of dozens of speeches and interviews, Trump has indicated he would use tariffs to punish U.S. companies that have moved jobs overseas, as well as foreign countries that, in his view, aren't playing fair.
The Trump trade plan for Mexico is a case in point.
"Mexico is killing us on trade," Trump says, claiming that Mexican trade negotiators have outwitted their U.S. counterparts.
But Mexico is America's third-biggest trading partner, with $534.5 billion worth of goods moving between the two nations in 2014. The U.S Chamber of Commerce estimates 14 million U.S. jobs depend on trade with Mexico.
Plus, because of an unusual "production sharing" agreement, 40% of the content of goods imported from Mexico to the United States are made in America. So $0.40 out of every dollar used to buy Mexican imports actually supports U.S. industry.
This inconvenient fact plays a part in Trump's wrong-headed attacks on Ford Motor Co.'s (NYSE: F) plan to spend $2.5 billion on an engine and transmission plant in Mexico.
Why Trump's Attempt to Punish Ford Won't Work
Trump's answer is a punitive tariff.
"Every car and every truck and every part manufactured in this plant that comes across the border, we're going to charge you a 35% tax, and that tax is going to be paid simultaneously with the transaction, and that's it," Trump said when he announced his candidacy in June.
That populist position appeals to many Trump supporters. But here's why it's a bad idea…