The odds that we may get a U.S. president who understands that the road to wealth is paved with high tech have increased significantly over the past few weeks.
Of course, I'm talking about Republican presidential candidate Carly Fiorina. As the former CEO of Hewlett-Packard Co. (NYSE: HPQ), Fiorina hails from Silicon Valley and, therefore, grasps the ever-growing importance of the cloud, Big Data, the Internet of Everything (IoE), and other tech sectors in both our lives and the U.S. economy.
When I first introduced you to Fiorina back in July, I was among the very first investment analysts to suggest this former tech executive should be taken seriously. At the time, she was barely a blip on the national media's radar screen and was polling in low single digits.
Since then, she's made a strong name for herself, primarily by shutting down GOP front-runner Donald Trump during a debate that polls show she won.
And now polls show her tied for third place in the Republican presidential horse race.
Today, I want to show you what Fiorina's rapid rise means for tech investors like you…
Madame President?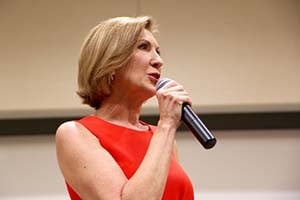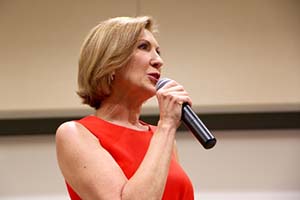 Let's get one thing cleared up right now. I'm not endorsing Fiorina – or any candidate.
My role here at Strategic Tech Investor is to analyze the markets… the news… the major trends – and then show you how to profit.
And I think that Fiorina's candidacy – as long as she and her message stay in the spotlight – is a big "win" for tech investors and tech's place in the economy.
After all, technology isn't just the top-performing sector in the market these days – it's become a catalyst for what I call the "convergence economy."
With the emergence of e-commerce, semiconductors, advanced sensors, smartphones, the connected car, and the IoE, tech's rapid growth is catapulting society further into the Digital Age as these areas continue to overlap with one another.
And there is no turning back…
That's why it's critical that those running for the White House understand the fundamental role technology plays in our lives.
Now, a Fiorina presidency remains a very long shot.
Outsiders without big backing from Wall Street and other major funders pretty much never win the Oval Office.
However, let me put on my prognosticator's cap and predict what a Fiorina win would mean for tech investors like you.
As the former CEO of HP, she knows firsthand the importance of computer networks, information technology, cybersecurity, software, and data mining.
So it's no surprise that following the 9/11 terrorist attacks, then-Secretary of State Colin Powell sought Fiorina's advice while she was still running HP as to how the government could share information between agencies more securely. She's worked with the Department of Defense and the National Security Agency in a similar capacity.
Therefore, if Fiorina were to become president, I'd look for tech companies, like HP, that facilitate communication to get some very big federal contracts.
As the first chair of the Central Intelligence Agency's External Advisory Board when it formed in 2007, she also has a strong background in defense. So she'd likely push for the Pentagon and Langley to add even more tech systems.
Defense-tech contractors – and their investors – would be smiling.
Plus, even if she never makes it to Washington, her candidacy will constantly highlight the importance of investing in the nation's technology infrastructure.
No one on the campaign trail now is a better advocate for that than Fiorina.
How She Got Here
Join the conversation. Click here to jump to comments…
About the Author
Michael A. Robinson is one of the top financial analysts working today. His book "Overdrawn: The Bailout of American Savings" was a prescient look at the anatomy of the nation's S&L crisis, long before the word "bailout" became part of our daily lexicon. He's a Pulitzer Prize-nominated writer and reporter, lauded by the Columbia Journalism Review for his aggressive style. His 30-year track record as a leading tech analyst has garnered him rave reviews, too. Today he is the editor of the monthly tech investing newsletter Nova-X Report as well as Radical Technology Profits, where he covers truly radical technologies – ones that have the power to sweep across the globe and change the very fabric of our lives – and profit opportunities they give rise to. He also explores "what's next" in the tech investing world at Strategic Tech Investor.