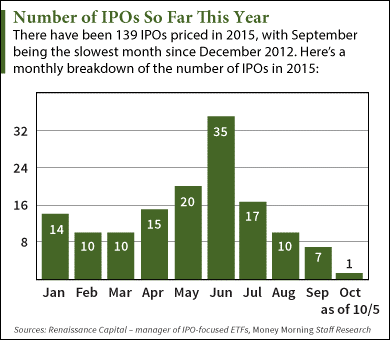 There are 11 upcoming IPOs this week, including the biggest IPO of 2015 so far – Digicel Group Ltd. (NYSE: DCEL).
Digicel Group is a provider of wireless and business communication services in the Caribbean. The Bermuda-based firm boasts more than 14 million subscribers and is one of the largest mobile providers in the region.
Digicel posted $2.8 billion in revenue from March 2014 to March 2015. But investors worry about the company's lack of profitability after it swung from a profit of $44 million to a loss of $158 million in the last year. The Digicel IPO will raise $1.8 billion by selling 124 million shares at a $13 to $16 price range. It commands a $4.6 billion valuation and will start trading on Thursday, Oct. 9.
But that's not the only IPO on this week's calendar. Here are 10 more upcoming IPOs this week…
10 More Upcoming IPOs This Week
Pure Storage Inc. (NYSE: PSTG) is a flash storage hardware company based in Mountain View, Calif. The company is the second "unicorn" – Silicon Valley's term for tech startups worth at least $1 billion – to go public in 2015 after Box Inc. (NYSE: BOX) in January. Pure Storage has grown faster than any other flash storage firm, reaching $300 million in revenue by its third year. But the company has also accumulated $455 million in debt due to its aggressive product marketing against industry leader EMC Corp. (NYSE: EMC). Pure Storage is set for a $425 million deal by offering 25 million shares at a $16 to $18 price range. It's valued at $3.9 billion and will debut on Wednesday, Oct. 7.
Money Morning Members: Keep reading for nine more upcoming IPOs this week. For those new to Money Morning, sign up to keep reading – it's completely free…