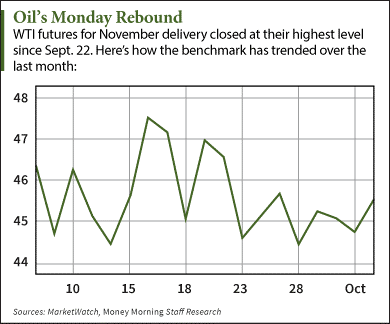 WTI crude oil prices today (Monday) settled at their highest level in two weeks following Friday's rig count from Baker Hughes Inc. (NYSE: BHI) and a statement from the World Bank.
Today's WTI crude oil prices gained 1.6% to close at $46.26 a barrel. The U.S. benchmark finished at its highest level since hitting $46.57 on Sept. 22. Futures are up 2.6% so far this month.
Brent crude oil prices surged even higher than its U.S. counterpart. The international benchmark ticked up 2.2% to $49.25 on the day. It has gained 0.4% in October so far.
The rise in WTI crude oil prices today came as concerns over excess supply subsided after Friday's rig count. Baker Hughes reported the number of active U.S. oil rigs fell by 26 to 614 last week. The count has decreased by 62% since a peak of 1,609 a year ago.
But the biggest news for oil prices was the World Bank's projection that China's economy will grow 7% in 2015. It stated the country's strong regulations will prevent a continued slowdown in the world's second-largest economy.
"China has sufficient policy buffers and tools to address the risk of a more pronounced slowdown, including relatively low public debt levels, regulations restricting savings outside the banking system and the state's dominant role in the financial system," the World Bank said.
China is one of the largest oil importers in the world. When the Chinese economy grows, it has more money to buy international oil, which increases global demand.
According to Money Morning Global Energy Strategist Dr. Kent Moors, demand will continue to increase over the long term. Global oil demand is on track to average 94.2 million barrels a day this year. That's 1.7% more than the daily average in 2014.
"Energy demand elements are emerging that far outweigh the significance of any Fed move," Moors said. "Because while the fixation on a rise in interest rates continues, aggregate expected global oil demand is moving up regardless."
Alex McGuire is an associate editor for Money Morning who writes about energy. Follow him on Twitter for all of the biggest oil and gas updates.