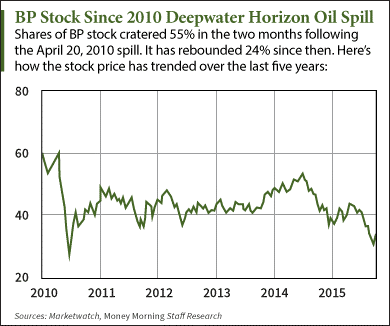 The BP Plc. (NYSE ADR: BP) stock price today (Tuesday) jumped 2.3% to $34.23 despite the fact that the U.S. Department of Justice announced BP will pay a $20.8 billion settlement for causing the 2010 Deepwater Horizon oil spill.
Yesterday, the DOJ issued a record $20.8 billion fine to settle the damages. The settlement resolves all claims against BP charged by the DOJ and five states bordering the Gulf.
The disaster is considered the worst oil spill in U.S. history. It occurred when a BP-owned oil rig exploded in the Gulf of Mexico and leaked 4.9 million barrels of oil over the course of five months. The spill killed 11 people and devastated the marine ecosystem in the area.
"It's the largest settlement with a single entity in American history," said U.S. Attorney General Loretta Lynch in a statement. "Once approved by the court, this agreement will launch one of the largest environmental restoration efforts the world has ever seen."
The BP stock price has soared recently. The oil giant is up 11.5% since Sept. 1 and has climbed 15.5% over the last week alone.
The rally in the BP stock price today comes alongside a rally in oil prices. WTI crude oil prices are up 2.3% today and trading at $47.32 a barrel. The U.S. benchmark is up 4.7% since Sept. 30.
With all of this in mind, investors want to know if they should invest in BP stock...