When it comes to a down market like the one we've been seeing since mid-August, investors like you have to hone their stock-selection skills.
Here's why.
During the third quarter, most stocks sold off, including many tech leaders. The Dow Jones Industrial Average, S&P 500, and Nasdaq Composite have all spilled more than 8%.
On the other hand, like I showed you back in late August, the U.S. economy itself is in good shape. And the new numbers rolling in still show a growing economy as employers hire more workers and consumers load up on homes and cars.
In other words, this downturn has little to do with the U.S. economy. And that means there are plenty of companies – and stocks – that are bucking the market trend.
You just have to know how to peer through the "noise" and pick them.
And today, I'm going to show you five tech stocks that sailed peacefully through the third-quarter sell-off.
How They Did It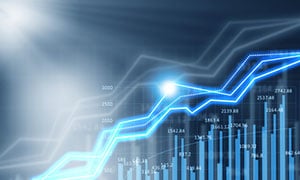 I'm well aware that Wall Street is worried about the U.S. Federal Reserve's intent to raise interest rates by the end of the year – and you bet I know that China's growth has cooled.
But there are still loads of reasons to be optimistic about the U.S. economy – and about your ability to pick good investments.
Let's start with the macro view.
The U.S. Department of Commerce says the economy entered the third quarter on a strong note. Last week, the agency revised its GDP estimates upward to show seasonally adjusted growth of 3.9%.
The revised forecast comes as we continue to see strength in two of the economy's more important sectors – housing and autos.
Commerce Department officials say sales of new single-family homes ran at an annual pace of 552,000 in August. That's the strongest showing in 7.5 years and represented a 22% annual gain.
On top of that, the auto industry said September sales came in at an annual rate of 18 million cars and light-duty trucks. The industry is now on pace to achieve its highest sales since 2000.
But consumers aren't just buying autos and homes. They're also picking up smartphones, tablets, laptops, Wi-Fi routers, set-top boxes, and digital cameras – and their insurance companies are picking up the tab for plenty of prescription drugs and medical devices.
Given these economic trends, it should be no surprise that several tech stocks absolutely crushed it in the otherwise dreary third quarter.
Take a look…
Tech Market Crusher No. 1: The Medicines Co.
While I remain upbeat about biotech for the long haul, the sector was down 18% in the quarter as measured by the bellwether iShares Nasdaq Biotechnology ETF (Nasdaq: IBB). Much of the carnage occurred just a couple of weeks ago after leading Democrats criticized high drug prices.
But The Medicines Co. (Nasdaq: MDCO) soared some 44% in the seven sessions ended Sept. 2 after the mid-cap leader reported that a new drug it's developing, called ALN-PCSsc, improved "bad" cholesterol levels by 83% in early clinical trials.
That prompted Jeffries to upgrade the stock on Aug. 28 to a "Buy," which helped MDCO hold onto most of those gains (it's up 32.7% for the entire quarter).
Tech Market Crusher No. 2: Activision Blizzard Inc.
Join the conversation. Click here to jump to comments…
About the Author
Michael A. Robinson is one of the top financial analysts working today. His book "Overdrawn: The Bailout of American Savings" was a prescient look at the anatomy of the nation's S&L crisis, long before the word "bailout" became part of our daily lexicon. He's a Pulitzer Prize-nominated writer and reporter, lauded by the Columbia Journalism Review for his aggressive style. His 30-year track record as a leading tech analyst has garnered him rave reviews, too. Today he is the editor of the monthly tech investing newsletter Nova-X Report as well as Radical Technology Profits, where he covers truly radical technologies – ones that have the power to sweep across the globe and change the very fabric of our lives – and profit opportunities they give rise to. He also explores "what's next" in the tech investing world at Strategic Tech Investor.