Sometimes a big trend isn't little enough - what I mean by that is that a big trend may not be as focused as you'd like. To really refine your profit potential, you've got to hone in on a sub-trend.
We're going to talk about that today and, specifically, how recent trading conditions have created an opening that most people don't see in a restaurant sector sub-trend driving one of the most powerful of our Unstoppable Trends - Demographics.
That sounds like a tall order, but it's not too hard if you know what to look for.
The last time I brought one of these sub-trends to your attention, Total Wealth readers who followed along had the opportunity to capture returns of 120.40% in less than nine months.
The opportunity I want to share with you right now could do even better... and even faster.
The key is something called "fast-casual" dining.
This Sub-Trend Has Already Created Millionaires - It's Your Turn
Let me set the stage.
Team Yellen insists that there's a recovery underway, and the Fed highlights falling unemployment and steadily increasing economic growth as a declaration that they're doing their job.
You and I both know that's not true for reasons we've talked about many times.
Case in point, a tight labor market would be characterized by higher wages and rising prices. Yet, wages are flat to falling, median household wealth continues to decline, and the percentage of working-age Americans with jobs is still below pre-recession levels. The most damning data of all, underemployment - meaning people who want to work full time but who are forced to work part time - is still near record highs.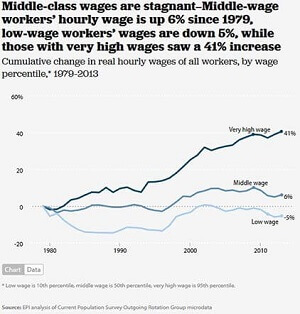 Not surprisingly, the Congressional Budget Office continues to lower growth projections, most recently dropping annual U.S. growth projections to just 2.0% in an August update to the Budget and Economic Outlook 2015 to 2025.
Now, here's where it gets interesting.
If you really pull apart the wage data, you see a very clear dividing line between high-wage, middle-wage, and low-wage jobs.
What this tells me is that the nature of spending has changed and will continue to change, especially when it comes to how Americans like to reward themselves, because that's where the bulk of discretionary spending occurs, especially when it comes to eating out.
It used to be that Americans went to fancy restaurants all the time. High-end joints were all the rage for birthdays, anniversaries, parties, and much more. But now with wages crimped, that's changed.
Americans still go out to eat, just not to white tablecloth restaurants like they used to. Instead, they've turned to something called "fast-casual" dining. Think Chipotle Inc. (NYSE: CMG), Panera Bread Co. (Nasdaq: PNRA), and even Shake Shack Inc. (NYSE: SHAK) here. Not Morton's.
They're still cheap, casual dining environments. But they're a step up from fast food, and the change has been so pronounced that it's left that industry in the dust.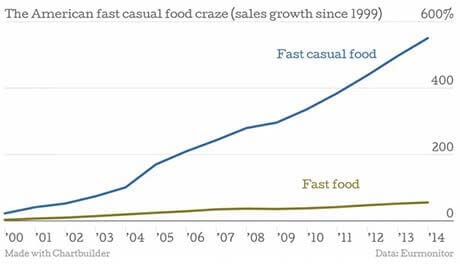 It's a fundamental change in America's $709 billion restaurant sector, and I want you to be ready to capture the next leg up.
Analysts Have Given You Another Fabulous Entry Point
Join the conversation. Click here to jump to comments…
About the Author
Keith is a seasoned market analyst and professional trader with more than 37 years of global experience. He is one of very few experts to correctly see both the dot.bomb crisis and the ongoing financial crisis coming ahead of time - and one of even fewer to help millions of investors around the world successfully navigate them both. Forbes hailed him as a "Market Visionary." He is a regular on FOX Business News and Yahoo! Finance, and his observations have been featured in Bloomberg, The Wall Street Journal, WIRED, and MarketWatch. Keith previously led The Money Map Report, Money Map's flagship newsletter, as Chief Investment Strategist, from 20007 to 2020. Keith holds a BS in management and finance from Skidmore College and an MS in international finance (with a focus on Japanese business science) from Chaminade University. He regularly travels the world in search of investment opportunities others don't yet see or understand.