Brent crude oil prices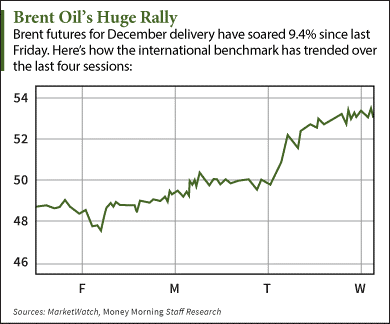 today (Wednesday) increased for the fourth consecutive session despite the U.S. Energy Information Administration's (EIA) bearish supply report.
At 11:15 a.m., Brent crude oil prices were up 0.53% to $52.73 a barrel. Brent – the benchmark price for oil purchases worldwide – is up 7.5% in October. That's after a 12.1% drop in September.
Meanwhile, WTI crude oil prices inched 0.25% higher to $48.65 a barrel. After cratering 9.7% in September, the U.S. benchmark is up 7.9% so far this month.
Here's why oil prices are moving higher today…
Why Brent Crude Oil Prices Are Up Today
The rise in Brent crude oil prices came as the EIA released its weekly supply report. The agency reported oil supplies increased by 3.1 million barrels last week. That surpasses the 1.75 million barrel increase projected by Platts-polled analysts. Total U.S. production reached 9.2 million barrels a day, up 8% from the previous week.
Despite rising supply data, the EIA reported yesterday daily U.S. crude production in September decreased by 120,000 barrels from August. The report projects monthly output will continue to decline through mid-2016. The report lifted oil prices by 5% to their highest settlement since Aug. 31.
Traders are still concerned refineries won't keep up with the current supply glut as many perform seasonal maintenance. Refineries ran at 87.5% capacity last week, down from 89.8% a week earlier. Lower refining capacity could cause an inventory buildup and send oil prices lower again.
"The crude-oil market has to be concerned as they continue to see these very large week-on-week Gulf Coast crude-oil inventory builds, because it's certainly not sustainable through the end of the year," said Andy Lipow, president of Lipow Oil Associates in Houston, to The Wall Street Journal.
But there are still ways to make money in the energy sector no matter where prices move…
According to Money Morning Global Energy Strategist Dr. Kent Moors, all you need to do is follow these three tips to pick the best oil stocks…
Three Ways to Play Brent Crude Oil Prices Today
There are three methods for finding the best oil stocks to buy in today's low price environment…