VW's "Dieselgate" could end up being one of the most expensive, avoidable disasters in the world...
The Volkswagen AG (OTCMKTS ADR: VLKAY) auto recall affected an estimated 500,000 turbodiesel models. Each one of these automobiles contained a "defeat device" that shut down emission controls during day-to-day driving and kicked in only when being emissions tested.
VW set aside $7.2 billion to deal with Dieselgate. But according to Credit Suisse's most conservative estimates, the true cost of the controversy could easily be three-and-a-half times that amount, reported CNN Money on Oct. 2.
At least...
That means Dieselgate could cost Volkswagen a total of $87 billion. That's seven times their 2014 net profit, according to Google Finance.
Credit Suisse took into consideration several factors to make an accurate projection: the costs of settling criminal and civil court cases, the cost of reimbursing owner, and the cost of fixing the emissions controls. Credit Suisse's biggest valuation, reported CNN Money, came from estimating the costs of compensating owners for their vehicle's "loss of value." A rough estimate of that portion of the cost is 33 billion euros, or roughly $37 billion.
That would make the VLKAY scandal one of the most expensive, avoidable scandals ever. It would cost more than the Deepwater Horizon oil spill. It would cost just slightly less than the costs resulting from a lack of preparation for Hurricane Katrina.
Here's a look at where Dieselgate stands amid a few more of the world's most expensive and avoidable scandals....
Dieselgate: Its Ranking Among Other Financial Disasters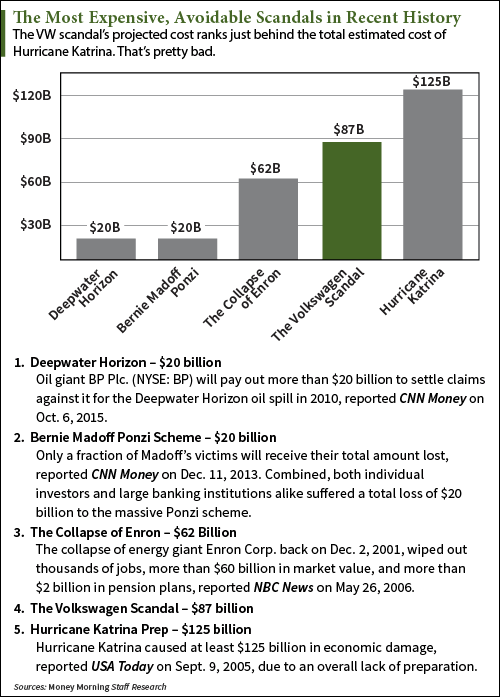 Find us on Twitter @moneymorning.
No Defense Bill for You! Senate Majority Leader Mitch McConnell (R-KY) has prepped the U.S. Senate to consider a $612 billion defense bill (National Defense Authorization Act, or NDAA) next week. The bill has already passed the House with a 279-156 vote on May 15, 2015. It passed the Senate on June 18, 2015. But it's not expected to get much further than that...