The daily fantasy sports company DraftKings Inc. is now valued at more than $1.2 billion, meaning the DraftKings IPO could be one of the largest initial public offerings of 2016.
And while the company has been getting headlines for the $426 million it had raised in private funding, the biggest news this week deals with the firm's "insider trading" scandal.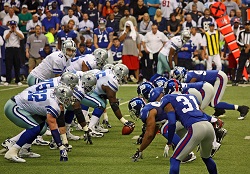 According to reports, an employee from DraftKings had access to "insider" fantasy football information before other customers and used the information to win $350,000 on rival site FanDuel.
New York Attorney General Eric Schneiderman has launched an investigation into both DraftKings and FanDuel. While the investigation is in the early stages, a FanDuel spokeswoman told ESPN that DraftKings employees have won roughly 0.3% of all the money the company has ever doled out. That could account for as much as $6 million.
Despite the scandal, DraftKings has some high-profile backers.
Some of company's biggest investors ahead of the DraftKings IPO have been Fox Networks Group, Major League Baseball, Madison Square Garden Co., and the National Hockey League. Other investors include New England Patriots owner Robert Kraft and an ownership group that works with the Dallas Cowboys and New York Yankees.
DraftKings allows users to compete in daily fantasy sports leagues and compete for daily cash payouts. Users can wager between $0.25 and $1,000 per contest on various sports, including the NFL, MLB, NBA, and PGA Tour, among others.
Company officials have said DraftKings sees roughly 50,000 daily active users during baseball season. During football season, that number balloons over 1 million. CEO Jason Robins said he believes the company will grow that number by 10 times during the 2015 football season.
And the company has a very lucrative business model. DraftKings takes 10% of every transaction that takes place on the site. In 2014, the company said it had more than $30 million in revenue. But that number will grow proportionately as the user base grows.
If you feel like you've been hearing about DraftKings lately, you're not mistaken. DraftKings has spent $81 million on TV ads since the beginning of August.
While the company is facing a major scandal at the moment, investors are still preparing for the DraftKings IPO in 2016. The company is simply growing too fast to stay private forever.
But should you invest in DraftKings stock when it comes to market?