The Internet may be a hole that can never be filled.
But that doesn't stop a legion of content providers from working around the clock to create, design, and post the text and images that attempt to fill that hole every day – and that keep us glued to our screens.
And there's one software company that produces the tools those writers, editors, and designers need to create all that content.
This Silicon Valley legend's share price really took off after it successfully moved away from its old-school method of selling individual products – and instead tied itself to the highly profitable cloud subscription model… where it sells an "ecosystem."
Now, thanks to a recent "stealth" acquisition, this firm has the opportunity to rope all those content providers into that "ecosystem" almost entirely.
Today, I'll show you how my longtime readers have already more than doubled their money on this tech stock.
Then, I'll show you how this new acquisition will coax even more users to sign up for the company's cloud subscriptions.
Even better, all those new subscribers means the firm's stock price will double again in just a couple of years…
Picture Perfect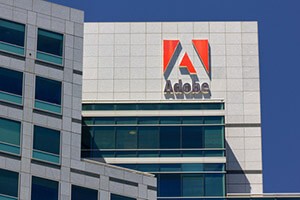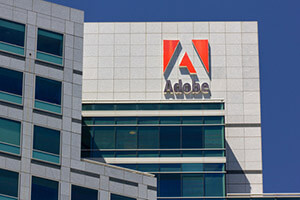 Adobe Systems Inc. (Nasdaq: ADBE) was largely out of favor when I told you about it back in May 2013.
Wall Street felt the big software firm behind PDF files, Illustrator, and Photoshop was out of touch with cloud computing.
But I told you to keep an eye on Adobe because it had recently unveiled its new subscription model, called Creative Cloud.
Since our original 2013 chat, Adobe has signed up millions of subscribers – and shares are up 101.3%, more than 10 times the Dow Jones Industrial Average's return.
And now Wall Street is missing the story again.
Adobe's $800 million purchase of the Fotolia "stock" photography service last December may have gone unnoticed on Wall Street. After all, it's hard to get excited about such an old-school service.
But the acquisition of Fotolia – which updated the stock photo tradition by putting its database of images online – underscores how Adobe has become a cloud computing profit machine.
For a subscription licensing fee, stock photo services such as Fotolia – you might recognize the names Corbis or Getty Images – provide photos and other images to fill up content like corporate reports, travel brochures, and online articles.
And it's a $3 billion market, according to Heidelberg University.
The company launched Adobe Stock in June, based on Fotolia's platform, with more than 40 million high-resolution images and thoroughly integrated into its Creative Cloud suite of products. And the new service isn't just a nice new addition that simplifies buying stock photos.
Join the conversation. Click here to jump to comments…
About the Author
Michael A. Robinson is one of the top financial analysts working today. His book "Overdrawn: The Bailout of American Savings" was a prescient look at the anatomy of the nation's S&L crisis, long before the word "bailout" became part of our daily lexicon. He's a Pulitzer Prize-nominated writer and reporter, lauded by the Columbia Journalism Review for his aggressive style. His 30-year track record as a leading tech analyst has garnered him rave reviews, too. Today he is the editor of the monthly tech investing newsletter Nova-X Report as well as Radical Technology Profits, where he covers truly radical technologies – ones that have the power to sweep across the globe and change the very fabric of our lives – and profit opportunities they give rise to. He also explores "what's next" in the tech investing world at Strategic Tech Investor.