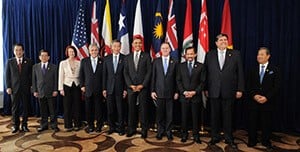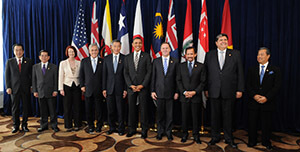 The United States and 11 Pacific Rim nations on Monday reached a final agreement on the largest regional trade agreement in history, the Trans-Pacific Partnership.
And getting Congress' approval for the deal could be President Barack Obama's toughest fight in his final year in the White House.
Those opposed to the deal say it expands corporate rights across member states to the disadvantage of workers' rights, the environment, and public health.
Among notable opponents are two key 2016 presidential hopefuls: Republican candidate Donald Trump and Democratic candidate Bernie Sanders.
Here's why Donald Trump and Bernie Sanders hate the Trans-Pacific Partnership.
Why Both Bernie Sanders and Donald Trump Hate the Trans-Pacific Partnership
Democratic candidate Senator Bernie Sanders (I-VT) has long opposed the Trans-Pacific Partnership. In a statement Monday, Sanders said he was "disappointed but not surprised by the decision to move forward on the disastrous Trans-Pacific Partnership trade agreement that will hurt consumers and cost American jobs."
"Wall Street and other big companies have won again," Sanders said. "It is time for the rest of us to stop letting multinational corporations rig the system to pad their profits at our expense."
Sanders said he will do all he can to defeat the TPP. Shortly after the deal's announcement, Sanders launched a fund-raising appeal to prevent the deal from becoming law.
Meanwhile, Republican candidate Donald Trump has called the Trans-Pacific Partnership a "terrible deal."
Trump said the agreement would cost Americans jobs and benefit foreign countries and big corporations. In a Twitter message Tuesday, Trump wrote, "The incompetence of our current administration is beyond comprehension. TPP is a terrible deal."
As the current GOP front-runner, Trump's stance on the Trans-Pacific Partnership could put serious pressure on the Republican-controlled House and Senate to not approve it.
It's not yet known when President Obama will notify Congress that he intends to sign the accord. But when he does, Congress has 90 days to consider it. Additional time is expected, according to congressional and administration officials.
Congress does have the power to accept or reject the agreement. Here's why that will be such an important decision...
A Closer Look at the Trans-Pacific Partnership