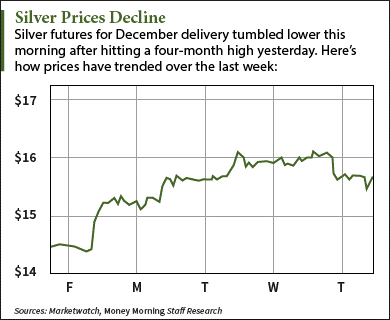 The price of silver today (Thursday) fell 2.6% as investors brace for the release of the U.S. Federal Reserve meeting minutes.
At 10:20 a.m., the price of silver today was trading at $15.67 per 5,000 troy ounces – the amount traded on each futures contract. Yesterday, silver prices added 5% to hit a four-month high of $16.09.
Today's silver price decline comes ahead of the 2 p.m. release of the Fed minutes from last month's meeting. Although investors believe a potential rate hike has already been factored into silver prices, the minutes could provide insight into the Fed's economic growth concerns and future plans for raising rates.
The minutes come three weeks after the Fed decided not to raise interest rates. Chairwoman Janet Yellen cited a global economic slowdown, low U.S. inflation, and volatile markets as reasons for leaving rates near zero.
But according to Money Morning Resource Specialist Peter Krauth, one of the most overlooked factors that shaped the Fed's decision was the strength of the dollar.
And the strength of the dollar has a major influence on the silver price…
How the U.S. Dollar Affects the Price of Silver
Like most commodities, silver is priced in U.S. dollars. Since rising interest rates increase the value of the dollar, silver becomes more expensive when rates are hiked. That consequently reduces international demand and sends silver prices lower.
But the dollar's value has already been sky high in 2015. The U.S. dollar index has gained 11.3% in the last year.
"That put tremendous pressure on the Fed to not raise rates, which would have supported the dollar even further," Krauth said. "The strong greenback has been a headwind not only for U.S. multinationals and exporters, but also for commodities."
After a knee-jerk boost following the Fed's decision, the dollar has steadily declined. It's down 1.4% since Sept. 22 and hasn't risen above the 98 level since August. The price of silver naturally moved higher, gaining 6.2% over the same period.
"That was like rocket fuel for precious metals, and silver in particular," Krauth noted. "If the dollar continues to weaken, it will drive precious metals prices even higher."
Investors believe the Fed will keep rates unchanged throughout the rest of the year. That means silver prices will climb as we move into 2016.
Here's the best way to invest in the price of silver today…