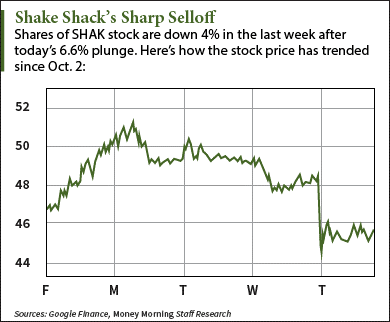 The Shake Shack stock price fell 6.6% to $45.26 today (Thursday) after pre-IPO investors decided to sell roughly 26.2 million shares.
Shake Shack Inc. (NYSE: SHAK) filed with the U.S. Securities and Exchange Commission to convert all of its 26.2 million Class B shares into Class A shares. While both classes are common stock, Class A shares have more voting rights than Class B.
According to The Wall Street Journal, the owners of those SHAK shares will sell them after the conversion. At yesterday's closing price of $48.38, 26.2 million shares are worth approximately $1.3 billion in Shake Shack stock.
The sellers include Shake Shack founder Danny Meyer and top shareholder Leonard Green. The SEC filing states Meyer will reduce his stake in the stock to about 30,000 shares.
The Shake Shack stock price skyrocketed during its first five months on the market. From January to May, shares shot up 111% to an all-time high of $96.75. They have fallen 53.2% since.
Now the people who issued SHAK stock will be responsible for sending it lower. According to Money Morning Chief Investment Strategist Keith Fitz-Gerald, that's a huge red flag for retail investors.
"If these insiders believed the Shake Shack stock price was cheap and that the company had better days ahead, they'd be holding on or even buying more," Fitz-Gerald said.
And that's not the only reason to avoid SHAK stock...
Why the Shake Shack Stock Price Is Too High