The star of the Hillary Clinton-Wall Street farce herself, Democratic presidential candidate Hillary Rodham Clinton, announced plans to crack down on Wall Street. Today (Thursday), the former secretary of state is expected to fully outline how she intends to accomplish that goal.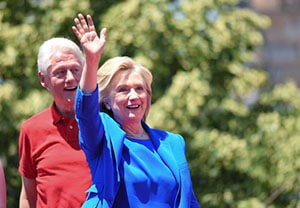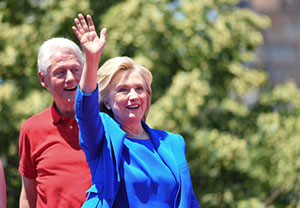 Members of Clinton's campaign released a summary of the plan on Wednesday evening. It included a proposal to quash and punish dirty Wall Street "bad actors" on an individual basis. These brokers and bankers would also face a ban from future employment in the financial industry.
Former Secretary of State Hillary Rodham Clinton announced her intention to seek the 2016 Democratic nomination for president during a rally on Roosevelt Island, June 23, 2015.
That's a huge leap compared to the "new normal" standard of punishment that's doled out to perpetrators of major white collar crimes. For instance, not a single Wall Street bad actor was jailed for illegal acts that caused the 2008 financial crisis. Instead, firms settle with the government - and oftentimes the individual Wall Street criminals retain their same positions.
Per her campaign reps, Clinton also intends to impose a new tax on high-frequency trading, (HFT). The fee would apply to trading strategies that involve a large amount of order cancellations - a signal of HFTs. That's because large cancellations typically occur with HFTs and can grossly destabilize the market. Big investment institutions and hedge funds use computers to transact a large amount of orders at an incredibly high speed - in essence attempting to spot a market trend before it actually surfaces.
Furthermore, the Democratic front-runner's plan would include an extension to the statute of limitations on major financial fraud cases, reported The Huffington Post, to provide prosecutors more time to develop their cases.
While these intentions of Mrs. Clinton sound appealing, they are also an obvious push to garner populist support.
Yet anyone with access to the Internet can quickly learn that Clinton is far from a populist politician. In fact, her ties to Wall Street are quite close.
And quite intimate...
Sign up for SMS so you never miss special events, exclusive offers, and weekly bonus trades.
The Real "Bad Actor" in the Hillary Clinton-Wall Street Proposal
Clinton's relationship with Wall Street draws skepticism from many about the truth behind her political declarations.
And rightfully so.
Consider the following situation related to The Clinton Foundation and UBS Group AG (NYSE: UBS), one of the most powerful banking institutions in the world. As secretary of state, Hillary Clinton helped UBS by stepping in on an IRS investigation, reported The Atlantic on July 31. In turn, the Swiss bank paid former President Bill Clinton $1.5 million for speaking gigs and, between the years 2008 to 2014, donated a cumulative sum total of about $600,000 to the Clintons' nonprofit charity.
Back in May, UBS was one of four major banks to plead guilty to manipulating foreign exchange rates. They cheated clients to boost their own profits by utilizing "invitation only" Internet chat rooms and coded language to hatch their plan and execute their trades.
It seems UBS would be one of Clinton's biggest foes. But that's not the case at all, as we've established. The financial institution is one of her biggest donors.
Another big eyebrow-raiser regarding Clinton and her true ties to the "big, evil banks" occurred in June 2014, when she delivered a speech at the New America Foundation in Washington, D.C. Hillary lamented about the "financial elite" and "the one percenters" operating without accountability on Wall Street. She decried how their irresponsible actions wiped out clients' retirement funds, college savings, and nest eggs.
While her populist ire may have seemed believable on the surface, one can't help but wonder how truly upset the former first lady was. Just after that speech, reported Mother Jones on June 4, 2014, the Clinton family hosted a day-long fete at - get this - the Manhattan Goldman Sachs Group Inc. (NYSE: GS) headquarters.
In fact, the firm has donated between $250,000 and $500,000 to the Clinton Foundation, reported Mother Jones.
Here's one more quick example: One of Clinton's top campaign donors has been Citigroup Inc. (NYSE: C). Citigroup is one of the leading firms responsible for the 2008 financial crisis. In fact, on July 14, 2014, Citigroup was ordered to pay out a $7 billion settlement by the U.S. Department of Justice for selling bad mortgage-back securitizations.
And just how much has Citgroup donated to Clinton?
According to OpenSecrets.com, as of Monday, Aug. 3, 2015, just shy of a million dollars: $824,402.
Stay tuned to Money Morning for more on the 2016 presidential election. You can follow us on Twitter @moneymorning or like us on Facebook.
Ben Carson Net Worth: GOP presidential candidate Dr. Ben Carson has a net worth of $10 million dollars, according to The Wall Street Journal. What's most impressive about his wealth is that it's almost entirely self-made...
Related Articles: